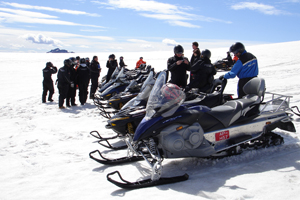 Pre-event planning: Retail bank HSBC held an annual team-building event each winter up until 2007, when it was cancelled due to the economic conditions. Last year, the bank's hospitality division carried out research among employees to assess demand for such an event, drafting a questionnaire to see which activities and themes had been done previously and what they would like to do in the future. Skiing and new ideas such as skidoo (snowmobile) evenings were suggested in resorts such as Verbier in Switzerland and Chamonix in France.
Objectives: HSBC wanted to motivate staff, with a team-building event for 80 employees split into four groups of 20, carried out over two weeks on a four-day rotation.
Challenges: The group size was a challenge, as guests wanted to stay in private accommodation, such as chalets rather than a hotel. The fact that delegates were travelling from regional offices, including London, Manchester, Leeds and Edinburgh, created logistical issues with flights and transfers.
Solutions: To source suitable accommodation, agency Haute Pursuit carried out a number of site visits and worked closely with HSBC to determine the best transport. Groups flew into Geneva, an hour's drive from Chamonix, and the agency escorted attendees individually and in groups to the venue. Private arrangements were made for two guests who had to leave early.
The four-day programme was repeated four times over a two-week period. Guests were greeted with a welcome drink and an assessment of their skiing ability, followed by dinner at La Caleche. Groups skied the following morning, before undertaking a team-building session involving a crevasse 'rescue' on the Mer de Glace in the afternoon. In the evening, Kenton Cool, one of the UK's leading alpine climbers, gave a motivational talk including footage of Sir Ranulph Fiennes' ascents of The Eiger and Everest.
The following day, guests chose to ski or do a tandem parapente (downhill skiing with a parachute) from Brevent.
The evening event was inspired by The Italian Job, with a drive to a secret location to meet awaiting skidoos, followed by a-30 minute ride up the mountain to Maison Vielle for drinks and canapes at 2,500m. Sledges and toboggans were available for the more adventurous, while others enjoyed the exceptional views of Mont Blanc.
Other activities included a two-hour trip to the Aiguille de Midi and shopping in Chamonix. Guests travelled back to Geneva in the late afternoon on the fourth day for departure flights.
Client verdict: "The strong focus on motivation, team-building activities and unique experiences boosted morale, and the quality of accommodation and activities was high," says Craig Cowe, head of credit services at HSBC, which is planning to repeat the event next year.
Post-event analysis: Verbal feedback was given at the final lunch with each group, and their comments were collated and given to the client. Haute Pursuit also sent a review to the client with feedback and ideas for future events.
TIMELINE
March 2010: Haute Pursuit makes initial telephone and email contact with HSBC
June 2010: Destination and itinerary ideas sent to HSBC
September 2010: Haute Pursuit presentation to HSBC's hospitality division and initial site visits
November 2010: Chamonix chosen due to shorter airport transfer time and budget
FACTFILE
Company: HSBC
Event: Annual team building
Group size: 80
Agency: Haute Pursuit
Date: 23 January - 6 February 2011
Venue: Les Granges d'en Haut, Chamonix
Budget: Undisclosed
Have you registered with us yet?
Register now to enjoy more articles
and free email bulletins.
Register now
Already registered?
Sign in