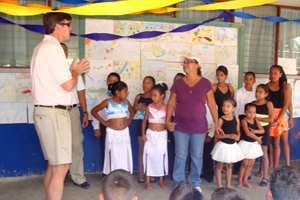 FACTFILE
Company: FICO
Event: Circle of Excellence global incentive
Agency: GTR Meetings and Events; Costa Rica Tours (DMC)
Date: 15-20 January 2011
Venue: Four Seasons Resort, Peninsula Papagayo; Buena Vista Ranch
Budget: Undisclosed
Pre-event planning
Business management and financial technology corporation FICO runs an annual incentive for its top 25 performers and their partners across the globe.
An aspirational destination is a necessity for the five-day trip - which is called Circle of Excellence - and potential locations for this year included Bali, St Lucia, Hawaii, the Great Barrier Reef in Australia and Costa Rica.
As part of a nine-month planning cycle, Costa Rica was selected in June, site inspections took place in July and winners were told they had hit the targets to make the trip in November.
FICO worked closely with the Four Seasons Resort in Costa Rica's Peninsula Papagayo on planning the incentive, as well as GTR Meetings and Events and local DMC Costa Rica Tours.
A total of 14 of the winners for 2011 were from the UK, with other delegates coming from the US, Canada, Germany and Asia.
Objectives
The incentive needs to be motivational and winners are chosen based solely on their revenue and bookings, so there is a strong focus on ensuring the trip meets expectations.
For the first time this year, FICO also planned to include a corporate social responsibility (CSR) element to the trip.
FICO's corporate event manager Chrissy Ruiz explains: "We go through a rigorous process in planning Circle of Excellence and we are taking our top executives. It has to be an experience for them, as well as being a safe destination."
Ruiz has been working on the incentive since 2003 and says discussions had been ongoing for several years to include a CSR section in the four-night trip.
"We go to these great countries and spend a lot of money so we wanted to be able to give something back to the places that welcome us," she adds.
The CSR aspect also resonated with FICO's theme for Circle of Excellence - Expanding our Footprint.
Challenges
A total of 52 people were on the final guest list for the trip - including two children - and activities needed to be broad enough to allow everyone to have a good time.
"This trip was different in that it was a very active destination and in the past it has always been a lot of fun in the sun," says Ruiz. "There was zip lining and white-water rafting planned and I didn't know how that would go down."
Delegates come from around the world, but she adds that when they head home the idea is that they remember "the experiences they have had, not the length of the flight.
"Around half the delegates have won a place on the programme before, and it is always a challenge to give them something they can aspire to," according to Ruiz.
In addition, the inaugural CSR programme needed to chime with FICO's overall brand values so had to be carefully thought through.
As part of the trip, a memorable gala dinner was essential, along with group activities and free time for the winners and their partners.
Meanwhile, FICO needed to ensure that delegates always felt as though there was a "central hub" where they could gather - even throughout the night.
"A big focus is on hospitality and a suite that serves as the heart of the programme - its living room - is really important," explains Ruiz.
Solutions
As guests flew into Costa Rica from around the world, the first evening included a welcome reception, with day two earmarked for a group activity.
"The second day is really the big day of bonding," says Ruiz.
Having worked closely with local DMC Costa Rica Tours, FICO chose to visit a school in the town of Buena Vista, rather than taking part in a more typical "ecotourism" programme.
"The night of the welcome reception, our chief executive Mark Greene spoke to the guests about what our visit means to the communities we are in," adds Ruiz.
Coaches took Circle of Excellence delegates to the Buena Vista School, where they had the opportunity to spend time with its four teachers and 125 pupils, all the time learning more about the local community, as well as providing educational supplies and sports equipment.
"It was a really great way to start the trip," says Ruiz.
Winners also visited the Buena Vista Ranch, where they took part in zip lining, or "cloud walking" on wooden platforms for those who preferred a slightly slower pace while still experiencing Costa Rica's forests from high up in the canopy. A horse-riding trek also took delegates to a series of natural springs and thermal pools.
Days three and four included individual and small group outings, with a gala dinner and farewell party planned for the final evening.
Costa Rican jazz saxophonist Geovanny Escalante welcomed the group onto a catamaran for a dinner cruise, before a traditional folklore show greeted guests as they returned to shore.
Client verdict
The community outreach programme is now a "fundamental part of the programme" as it proved so successful this year, says Ruiz.
Meanwhile, the UK delegates also shared their views of the trip with FICO's director of events Joy Thomas.
"Anecdotally they have said how amazing it was and they all commented on the school visit," reveals Thomas. "That really stood out for most people."
Post-event analysis
Despite initial worries about the level of activity, the white-water rafting element was the highest-rated activity during the trip, says Ruiz.
An online survey was carried out in the week following delegates' return from the trip and the overall score came in at 4.3 out of a possible five.
"The feedback we heard was really positive," adds Ruiz. "Comments we had on the community outreach programme were good and delegates also said they would like to bring something from their own town or city so they could share more information about where they had come from with the children."
TIMELINE
April 2010: planning starts for Circle of Excellence 2011
June 2010: Costa Rica selected as destination for incentive
July 2010: site inspections
November: winners informed
Jan 2011: incentive takes place
Have you registered with us yet?
Register now to enjoy more articles
and free email bulletins.
Register now
Already registered?
Sign in