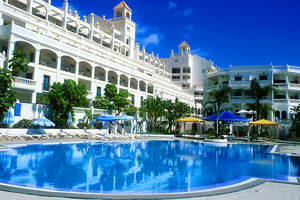 Pre-event planning: Lifestyle services company Silverpoint chief executive Mark Cushway wanted to create a ten-day conference to train and educate his sales and marketing teams. All staff and partners were invited, and once the themes and structure of the event had been decided, the venue was chosen. Cushway chose Tenerife as he knew it well from travelling on business to the island, was impressed with the range of accommodation options and liked the leisure activities available. "We chose the Hollywood Mirage Hotel because it was the best one suited to what we required - full AV system/equipment and also plenty of boardroom space," he says.
Objectives: The conference sought to address the staff's emotional and performance issues, and also any concerns or interests that their partners might have in the company. Cushway says: "What we realised is that many personal issues have a massive effect on how people perform in the workplace. If they have a balanced, happy life they perform well when they are at work and their success and productivity go up. I am very passionate about this type of human performance coaching."
Challenges: Co-ordination of travel was intricate, but Silverpoint's in-house department managed the process. As Silverpoint manages all training internally, the team starts planning training requirements a year in advance. As it is a global company, the event needed to update and train staff on compliance issues and also ethical sales techniques. As with any large-scale event, refreshments had to be provided throughout the day.
Solution: The delegates attended a range of courses and coaching sessions in the hotel's event spaces throughout the day, with evening meals at its Little Italy restaurant. Cushway says: "Due to year-round tourism in Tenerife, we had to block book the rooms and the conferencing facilities a year in advance. The Hollywood Mirage staff are trained in what is required and the kitchens were fully prepared to meet the delegates' dietary needs."
Client verdict: "It was amazingly rewarding," Cushway says. "It was draining but exhilarating at the same time. The sales results have been really strong despite the tougher economic climate. The training conference itself was a success, and the way we can gauge the effectiveness is seeing staff now implementing that training on a day-to-day basis. It is very satisfying to see the ongoing improvement in people's lives due to the training conferences we provide as a company."
Post-event analysis: "The main change is in the way everyone treats each other and behaves towards one another," adds Cushway. "Although I have hundreds of people working for me, it is not uncommon for me to come back from a business trip, walk into my office and for staff to give me a hug and say they have missed me."
FACTFILE
Company: Silverpoint
Event: Life at the Pea conference
Group size: 30
Agency: In-house
Date: 20-30 January 2011
Venue: Hollywood Mirage Hotel, Tenerife
Budget: Undisclosed
TIMELINE
December 2009: Destination chosen
January 2010: Site visit to hotel March - September 2010 Delegate registration
January 2011: Event takes place.
Have you registered with us yet?
Register now to enjoy more articles
and free email bulletins.
Register now
Already registered?
Sign in