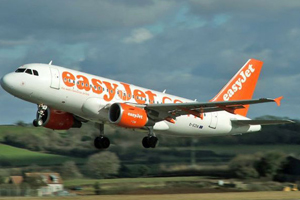 The deal between the two parties is worth more than £18m, after Easyjet pledged £9m in cash and marketing in kind, to be matched by Visit Britain.

The four-year marketing campaign – a key part of the government's new tourism policy launched on 4 March – aims to deliver £2bn more visitor spending in the UK, four million extra visitors and 50,000 new jobs across the country.
Business passengers
The funding from Easyjet is likely to target business passengers as the airline seeks to boost its sales in the corporate sector with a new strategy.

Easyjet has been testing a Flexifare system since November, which offers business travellers – who currently account for almost 20% of passengers - preferential boarding, free hold luggage and the ability to change planes two hours before flight time.

Easyjet's alliance to the campaign follows support pledged by British Airways, DFDS (ferries), lastminute.com, P&O and Radisson Edwardian
Royal wedding
Visit Britain has committed £50m of public money for the scheme, which aims to capitalise on opportunities provided by the upcoming Royal Wedding, Queen's Diamond Jubilee and London 2012 Olympic Games.

Easyjet's contribution to the campaign will be focused mainly in France, Germany, Italy, Spain and Switzerland.

Visit Britain chief executive Sandie Dawe said: "We are delighted that Easyjet has signed up to be one of the founding partners of our marketing campaign. We look forward to working with them to ensure that the opportunities we have in the years ahead are turned into growth for our tourism industry across Britain."
Tourism minister John Penrose

Tourism minister John Penrose added: "The eyes of the world will be on us from next month, right through to the end of 2012 and beyond. Thanks to Easyjet and the other backers, we will be well-placed to make sure that this interest is turned into sustained growth for our tourist industry."
Have you registered with us yet?
Register now to enjoy more articles
and free email bulletins.
Register now
Already registered?
Sign in