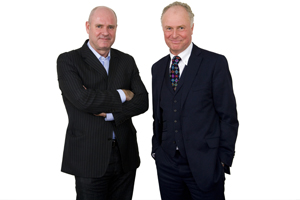 Simon Harris, head of internal communications, Openreach, a BT Group business

Nick and I first met in 2001 when I was working for a part of the business called BT Wholesale and was given the remit to launch the brand around the name.
We wanted to bring the brand to life for our people and pitched with around four suppliers. The thing I remember the most was that Nick was on the phone asking a lot of questions from the start – he showed a real active interest whereas the other suppliers pretty much just turned up on the day.

Nick's enthusiasm and willingness to understand exactly where we were coming from was clear.
In 2005 the communications industry and BT agreed with Ofcom to create a business under the BT wing, that would open up the marketplace.
When Openreach launched, it felt like we had a huge piece of blank paper.
We launched the business with our own people with a series of events for managers, many of whom were engineers and not used to sitting in a conference rooms so it had to be engaging.
Pumphouse suggested a fresh innovative approach. We took them out on coaches to show them the power of new brands going to the Design Centre in London and to big screen cinemas to watch a special film we made to explain the new business, which was all very risky with the large logistic demand – we did this in five different cities, with ten coachloads each day.

We have been on a journey with Openreach and we continue to run big events in the spring to look at where the business is going and where we have been. Now we need to look at embedding the business issues even further.

Nick Eve, chief executive, Pumphouse

I knew nothing about BT Wholesale, despite having worked with BT for a number of years when the pitch came up, which was why I kept ringing Simon to find out more.

The first event I worked on with Simon was a senior management conference for around 200 delegates. The numbers weren't huge, but it was the top slice of the business, which was huge at the time.
What was really enjoyable was that BT was at a credentials stage of the tender, but keen to engage a communications company early enough to help them achieve this engagement programme. I probably was a bit persistent at first but I got a real sense of encouragement from Simon and we built up a good rapport.

We don't agree on everything, but if you have got someone who is willing to listen and trusts you, that is great.
The launch of Openreach was a perfect job for us – we really had to kick on and I think that brought out the best in us as a team.

Simon and I have developed a friendship over the years and we do meet up socially to watch the cricket or other sports. But this is a tough business and if you don't deliver at the right price with the right value then, while the friendship can remain, the business relationship must end.
Have you registered with us yet?
Register now to enjoy more articles
and free email bulletins.
Register now
Already registered?
Sign in