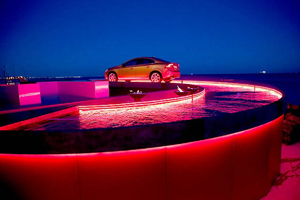 Pre-event Planning: Volvo Car Corporation (VCC) took over Estoril Circuit to launch its S60 model to its global dealership between June and September, working with Line Up for the fourth year running on a series of two-day experiences. It attracted 5,600 dealers from 36 markets, including 300 UK delegates who attended in three groups in July.

Challenges: Line Up owner Rob Leach said the biggest challenges were keeping the event consistent, cost effective and tailored to each international market. UK delegates were focused on improving customer service. "The recession hit the UK hard, and the race to win over customers was a priority for UK groups," said Leach. "UK delegates spent a lot of time in the showroom area to hone their customer relationship skills."

Solution: Line Up devised the event concept, hiring a team of local producers to meet the specific requirements for each market. The event aimed to reflect the 'dual personality' of the S60, combining Volvo's reputation for safety with its 'naughty' side. Each test showcased the car's different safety features, while stunt drivers demonstrated its potential. At the end of the first day, dealers enjoyed dinner at the nearby Coconuts restaurant. A sweeping track was built from the venue's terrace out over the sea to showcase the S60.

Post-event Analysis: The event was hailed as a resounding success. Maria Stenstrom, VCC's vice-president of global marketing, says: "Not only did Line Up create an event that was a lot of fun, it was relevant and perfectly aligned with the S60's global positioning." Preand post-event questionnaires revealed the average dealer opinion of the S60 rose from 3.93 to 4.7 out of five.

FACTFILE
Company: Volvo Car Corporation
Event: Driving Performance: Global Dealer Launch Event 2010
Group size: 300
Agency: Line Up
Date: 18-21 July
Venues: Estoril Circuit, Portugal and the Cascais Miragem hotel
Budget: Undisclosed
Have you registered with us yet?
Register now to enjoy more articles
and free email bulletins.
Register now
Already registered?
Sign in