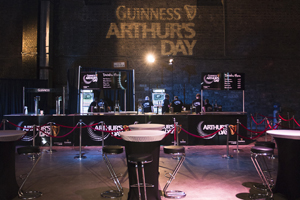 Pre-event planning:
Diageo had instituted Arthur's Day in 2009 in celebration of its 250th anniversary. Building on the huge success of the inaugural event, Diageo repeated and expanded the Arthur's Day concept for 2010 and, working with UK-based Out of the Blue productions, MCI Dublin played a leading role in delivering one of the anchor celebrations. The drinks giant decided to bring a group of its 100 top executives from the UK to attend the event as a staff incentive.
Challenges: Padraic Gilligan, managing director of MCI Dublin, says: "Hopstore 13, a disused warehouse, was the chosen location for the main stage programme but required a radical overhaul in order to pass stringent health and safety regulations. Extensive leaks due to heavy rain on the day before the events added to the challenge." Also, the executives were arriving from different airports and needed to be transferred from their hotels.
Solutions: The venue was kitted out with all utilities - power, water, and heat. The stringent health-and-safety protocols meant everything was checked and double-checked, and leaks had to be repaired at the last minute by experts. The executives were flown in from London, Manchester and Birmingham, and stayed at city centre hotels including the Westin and the Sherbourne. They were transferred to and from the event by limousines and mini-coaches.
Post-event analysis: "I needed an event management company that I was confident would understand our building and our business," says Diageo director Paul Carty. "I was thrilled with the outcome of the celebrations and the way that our group of 100 was handled. MCI delivered a first-class event."
FACTFILE
Client: Diageo
Event: Arthur's Day Celebrations
Group size: 100
Agency: Out of the Blue,
Date: 15 September 2010
Venue: Hopstore 13, Guinness Dublin
Budget: Undisclosed
Have you registered with us yet?
Register now to enjoy more articles
and free email bulletins.
Register now
Already registered?
Sign in