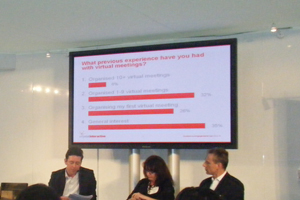 UBM held more than 100 virtual events last year, and plans to double this in 2011, said UBM built environment deputy chief executive Nina Wright, panellist at the Virtual meetings demystified seminar.

Wright said: "The real ROI is in the level of detail you get about delegates attending the event. From this you get leads – it is about having a strategy in place for what you do with the information. That helps you maximise ROI. It is about nurturing leads in the same way you would after a physical event."

Event planners should also have a pre-event plan in place and commit to a follow-up –
"develop and execute an integrated social media strategy. Create a buzz around the event," she added.

Virtual events must also drive interaction across the audience, said panellist and INXPO executive vice president of sales and marketing Chris Meyers, adding that the "best content for a virtual event is a physical event".
Delegate involvement
Panellist and professional facilitator Ross Edmonds said: "Develop a sense of occasion about it. Virtual events are completely different from a conference call. Involve delegates with voting and questions."
Virtual events' delegates should be led in to the content in the same way as at a live event, Edmonds added.

He said: "Avoid diving straight into content at the start of the meeting. Start in the same way as a live event, build it up and take them through the programme – move slowly into the content to keep people with you."

Virtual event tips from the panel:
Keep delegates engaged by having the keynote speaker in the same room as the facilitator, using them as a point of reference throughout
Give the event a sense of occasion with an events programme
Make sure the virtual event is easy to navigate
Don't underestimate the power of social media tools
Content-rich events such as conferences, panel discussions and Q&As work well in a virtual environment – presentations and focusing one on subject for a long time do not
Have you registered with us yet?
Register now to enjoy more articles
and free email bulletins.
Register now
Already registered?
Sign in