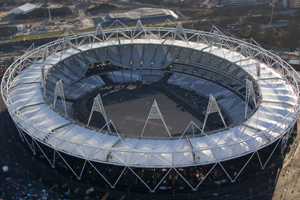 Although sponsors and national Olympic committees (NOCs) have already been investing in their Games-time programmes, BSI's director of business relations Justin Cole said there is still time for corporate event planners to think about a strategy.

"A lot of our clients haven't started moving forward yet," said Cole. "They are only just starting to get into the process and it isn't too late, because a lot of suppliers aren't ready yet."
Accommodation

The London Organising Committee of the Olympic Games (Locog) has an allocation of 58,000 hotel rooms, out of the capital's 120,000 total, but has yet to confirm how they will be distributed.

"Hotels can't really come up with a strategy yet until they know how many rooms they must contractually provide," added Cole, during a workshop at Confex this week at Earls Court.
White paper
BSI has published a white paper – London 2012: Planning ahead for accommodation and meetings buyers.

Its advice for buyers – whether they are planning to run meetings and events during the London 2012 Olympic Games or to stay away from the capital – is to plan ahead.

"Take advantage of the opportunities, don't just think of the challenges," advised Cole.

Tips for buyers in planning an Olympic strategy:
Engage with stakeholders to understand their business critical demand – can meetings and events be moved to other locations, or dates changed?
Talk to suppliers as early as possible – the build up to the Olympics will affect availability and rates
Consider serviced apartments for longer stays, or in RFPs for 2012 instruct bidding hotels to confirm availability, rates and terms and conditions will be honoured
Create a clear UK-wide travel policy during Games-time – consider a mandate of essential business and travel if necessary
Consider alternatives to face to face meetings such as video or teleconferencing
Expect the unexpected, for example increased food and beverage costs. Conduct risk assessments for events and keep track of where travellers are staying, especially at times of high security risk.
Talk to other buyers and find out what they are doing
However, Cole added the Olympics are also a great chance for engagement with staff and clients.
"Think about what you can do during the Olympics," he said. "It is a chance to engage with clients and staff and that might not be tickets to events, but there are other things going on. There are 3,500 venues in London so why not use them."
Have you registered with us yet?
Register now to enjoy more articles
and free email bulletins.
Register now
Already registered?
Sign in