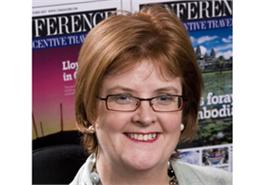 Trinity Conferences managing director Jacqui Kavanagh, Eventful Solutions director Caroline Hill and IBC's director of operations Clare Ruby stressed the importance of self confidence during an opening session at International Confex this morning (1 March).
Kavanagh said: "People are starting to see the meetings and events industry as a really serious profession and that is very important."
During the session at Confex at Earls Court, the three events professionals shared their top ten tips for women in business:
Focus on delivering results – in business it is about the bottom line.
Be clear about your core values as they help you through times of change.
Find people who believe in you and support you – don't be around people who bring you down.
Be kind to yourself if you make a mistake.
Be prepared to give something back and support other women.
Recognise the unique talents you have – skills can be learned.
Don't just work hard and think you will be noticed – recognise what is business critical.
Make your career aspirations explicit to your bosses.
Take care of your health – it is tough leading a team or a company.
Love what you do.
Have you registered with us yet?
Register now to enjoy more articles
and free email bulletins.
Register now
Already registered?
Sign in