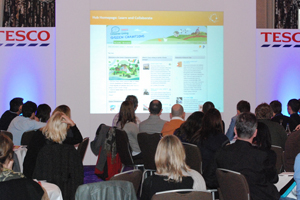 Pre-event planning: At the end of last year, Tesco launched a sustainability drive with 70 employees volunteering to act as 'green champions' for the brand. The climate change team wanted to bring all these new champions together to explain the scheme.
The team started planning the event two months in advance. Tesco's event manager Kate Conway says: "We were a bit short of time, so we had a narrow choice of venues - many were already booked." Tesco used its preferred venue-finding agency, BSI, which suggested using either Dexter House at the Royal Mint Court or the Grand Connaught Rooms. Conway says the Grand Connaught Rooms was chosen because it was centrally located, allowing easy access for delegates who didn't live in London.
Many of the delegates were quite young, so this venue was considered more appealing because it was situated near to the nightlife of Covent Garden rather than Tower Bridge. Conway says: "In addition, the facilities were fab, the room was really suitable and the catering room adjoined the meeting space."
Objectives: Tesco wanted to hold an introductory event that brought together the green champions from different stores and head office, to allow them to get to know one another, explain what was expected of them and teach them more about climate change. It also wanted to create some excitement around the sustainability drive.
Challenge: Conway says the main challenge was finding a venue at such short notice, but using specialist BSI made this task easier.
Solution: Delegates were welcomed at 9am with tea and coffee in the bar area. The morning session started in the main room at 9.30am, which was arranged cabaret-style.
A series of presentations were given about the green champions scheme and climate change, including one from BBC Radio 4 presenter and climate change expert Dr Gabrielle Walker.
The aim was to teach delegates more about the subject and inspire them in their new roles. "It was a good opportunity for delegates to learn more about climate change and meet people that work in different stores or offices," says Conway.
There was a standing buffet lunch in the bar area, while the main room was set up for the afternoon's team-building exercise, organised by agency Bluehat UK. The agency used one of its exercises called Eden, but tailored it specifically to Tesco's requirements. Delegates were divided into teams, and were challenged to create a sustainable community. The team who had built the largest community in a sustainable manner won the game. Bluehat's Glenn Pollard, project manager for the event, said delegates were exposed to Tesco's 30 key green messages during the game, because they introduced bespoke 'top trump' cards with these messages written on them.
Client verdict: Conway said she and her team were really happy with the event. She was particularly impressed with Walker's speech and the staff at the Grand Connaught Rooms. "The venue was really well organised. Staff were always on hand to help, like when we needed more tables in the main room during the afternoon. I'd hold an event there again and would really recommend it to others,' she says.
Post-event analysis: Delegates were asked to fill out forms at the end of the event. Feedback was positive, with the delegates enjoying both the activities and the venue.
FACTFILE
Client: Tesco
Event: Green Champions Event
Group size: 70
Agency: Bluehat UK, BSI
Date: 25 November 2010
Venue: Grand Connaught Rooms, London
Budget: Undisclosed
TIMELINE
Mid-September: Tesco started looking for venues.
7 October: Tesco got the brief back from Bluehat.
October: Six Tesco employees visited Bluehat's Hertfordshire office to see the Eden team-building exercise in action.
Mid-October: Invitations sent out to delegates
25 November: Event took place
Have you registered with us yet?
Register now to enjoy more articles
and free email bulletins.
Register now
Already registered?
Sign in