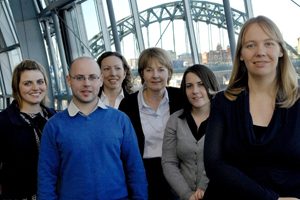 The beginning
Before 2001, there had been some promotional activity but it had been quite limited, mainly delivered through the local authorities. There was a decision taken that Newcastle and Gateshead should be branded as one visitor destination - it had potential as a conference city because of its size and layout, but what it really needed was a marketing-driven organisation to bring together the two sides of the river and to promote them enthusiastically as a place for business tourism. It was the first time that Gateshead and Newcastle had really worked together.
Heading things up
Ian Taylor was the first convention bureau manager. Sue Crawley took over from him in 2005, then I took over from Sue in 2007. I'd actually started out in 2001 answering the phones when they needed someone to cover during Confex - I was on a two-week contract. That first Confex was important. The team went to London in a van with some boxes - it was a pretty basic attendance but it was the first time that the markers were put down that Newcastle Gateshead had ambition.
The turning point
When the Sage Gateshead opened in 2005, that was the real sea-change. It allowed us to step up a gear and start hosting major national and international meetings. The other thing has been development in the transport infrastructure - Emirates launched a direct daily flight from here to Dubai in 2007 and by rail it is now just under a three-hour journey from London to Newcastle, so all that has helped make us a serious contender.
Corporate events
Probably the biggest corporate conference we've ever had was in 2007 for the British Council of Shopping Centres - it was a huge conference and exhibition that attracted around 3,300 delegates. It was a real show of faith in the destination. The event had traditionally taken place in Manchester but the clients saw the potential here. They actually had to build a semi-permanent exhibition pavilion on the quayside adjacent to the Sage Gateshead. They broke all their attendance records.
Big challenges
We hosted WOMEX, or World Music Expo, a huge trade show and world music arts conference that took place at the Sage Gateshead. They came partly because of the destination's cultural offering but also because the main venue was what they were looking for. It was a really important event for us to get right. These were people who had attended events in amazing conference centres and music venues right across the world. It had its own logistical challenges but we pulled it off.
Political parties
We've hosted both the Labour and Conservative Party spring conferences, and in 2012 we'll be hosting the Lib Dems. I think the fact that we've had all three of the major parties shows how far we've come as a destination - ten years ago we couldn't have hoped to have organised events of that scale.
The changing face
The city itself has changed hugely over the past decade. The physical infrastructure of the place has developed. We've had a massive increase in hotel beds and that's been matched by a growth in the number of event venues - places like the Great North Museum and the Baltic Centre for Contemporary Art. It's a different place now but it has still retained its core identity.
The industry
I think there's more of a need for creativity than there was ten years ago - people are doing things differently and trying new ways of running events. For destinations, venues or agencies that can be flexible and innovative, there's a huge amount of opportunity.
The latest
There are a number of new hotel developments already under way that we will be opening in the next two years. We will have a second Jury's Inn, a Crowne Plaza, a Canadian brand called Sandman Signature and a new Sleeperz Hotel too.
Future hopes
We're working on the vision for an international conference and exhibition centre. We've got to a stage in the development of the destination where we're regularly competing for national and international business - we had 100 European business and political leaders here for the British-Spanish Tertulias conference last November - but there's still a number of events that we have to turn away because we don't have the physical space to accommodate them. We're looking at adding to existing facilities at the Sage Gateshead by bringing on an additional 4,000m2 of exhibition space. There's a long journey ahead but we think there's value in the proposition.
Directory
Newcastle Gatsehead Convention Bureau
Contact: Jessica Roberts
Tel: 0191 440 5757
Email: conventionbureau@ngi.org.uk
Web: www.newcastlegateshead.com/meet
Buyer verdict: Why does Newcastle Gateshead work well for events?
Simon Thompson founder-director, Conferences-uk.org.uk
We put quite a lot of business into Newcastle and the surrounding areas. Location-wise it's pretty good with access, motorway links and so on, and there's also a large inventory of hotel accommodation and conference centres. Newcastle definitely has character, there's no doubt about it. It's very popular, not just for conferences and meetings but for events as well. We do a lot of business with the Assembly Rooms - it's a versatile venue in a good location with great capacity.
In terms of accommodation, a lot of the big hotel brands have got propositions in the city, and certainly down by the waterfront there's a very modern feel to the properties. Similarly to Liverpool, I think Newcastle is trying to raise its profile on an international scale, so a new convention centre would bring a lot of revenue to the city.
Sue Reay director, Benchmark Communications
It's a vibrant city but it's also compact, so it's easy for people coming in for the first time - it's feasible for delegates at a lot of the hotels to walk to the larger venues. There are some great out-of-city facilities too, so you can give groups a taste of the region. The city has come on in leaps and bounds compared to the past, particularly with the opening of the Sage - 15 years ago you would have had to explain to people on the international scene where the destination was. And I'm excited by the idea of an international convention centre, although I don't think I'm going to see it in my working life! It would be such a boost for Newcastle Gateshead. It would open up the next step.
Have you registered with us yet?
Register now to enjoy more articles
and free email bulletins.
Register now
Already registered?
Sign in