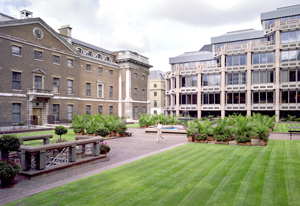 Dominic James, general manager, Etc Venues Dexter House
Dexter House offers event facilities opposite the Tower of London. Being located right on the Olympic priority route gives us a great opportunity to think very differently from our normal corporate events. We'll be considering how best to use our outside space and also look at partnering with historic sites on our doorstep, such as the Tower of London and Tower Bridge.
We narrowly missed out on the contract for Casa Brazil, but other Olympic countries are looking at the venue because of its location. While we are planning ahead, we also anticipate a lot of impulse business once the Games get under way and people realise they are only a few hours away. We are also in discussion with several potential clients regarding exclusive use of our three floors, which is a very different challenge from arranging events in individual rooms.
We expanded Dexter House with a new hi-tech conference and exhibition floor this year - there was already an opportunity to add more space but the forthcoming Olympics helped to give the go-ahead.
Maria Duddin, general manager, the Brewery
Part of the site is currently being developed into a five-star, 235-bedroom hotel, enabling us to offer on-site accommodation from June. Being one of the few venues in London with these facilities is likely to make the venue a desirable location for events during the Olympics.
We have also added LED lighting in our event spaces, redesigned the reception area and are planning to work alongside one partner to create a unique host/hospitality space for the duration of the Olympics. We are lucky to be in a great location for the Games and we have received a significant number of enquiries from both large corporate clients and participating nations.
Our approach to hosting corporate business-to-business events in 2012 will not change from what we currently offer, but each enquiry we have received has had very specific requests in terms of catering, security and layout. We are able to provide a one-stop shop, as all our services are provided in-house, so we have been able to match any requests that have come our way.
Elizabeth James, head of hospitality, Museum of London
We have had a small number of serious enquiries for the Olympics and we recently signed an agreement to act as the German House during the Olympic and Paralympic Games, which will involve the space being used for around six weeks in total by the German National Olympic Committee and its sponsors. We will be running an exhibition display on the ground floor, providing hospitality facilities during the day and evening, and are looking to upgrade our wireless infrastructure and lighting facilities in the run-up to this.
We expect to take on a number of new suppliers to cater for German House and other events but these details have yet to be finalised. A bigger worry is whether there will be enough technical and catering talent to meet the demand before and during the Games and whether we will be able to secure this at a reasonable rate.
Security is an important issue too, but operating a museum means we already monitor this closely and we will continue to work with the local authority on this.
Directory
London Eastside
Contact: Rob Ellwood
Tel: 0208 983 2521
Email: rob.ellwood@towerhamlets.gov.uk
Web: www.londoneastside.co.uk
Have you registered with us yet?
Register now to enjoy more articles
and free email bulletins.
Register now
Already registered?
Sign in