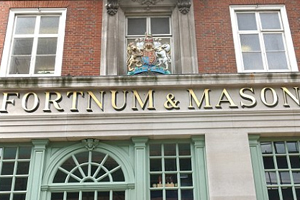 FACTFILE
Client: Fortnum & Mason
Event: Product showcase
Group size: 200
Agency: In-house
Date: September 2010
Venue: The Balmoral, Edinburgh; Chester Grosvenor; Mercure Cheltenham
Queen's Hotel; Malmaison Birmingham; Lainston House Hotel, Winchester;
Abode Exeter (formerly Royal Clarence).
Budget: Undisclosed
Pre-event planning
Luxury retailer Fortnum & Mason runs an annual product showcase for corporate and private clients to view its Christmas wares.
The preview events take place in regions across the UK as a way of Fortnum & Mason reaching its clients outside the capital. For its 2010 showcase the store chose to run events in Edinburgh, Chester, Cheltenham, Birmingham, Winchester and Exeter in September.
In previous years about 80 corporate clients have been invited to attend the private showcases. However, the guest list has now grown to about 200, so it was important that venues selected could accommodate the increased numbers. Corporate sales manager Andrew Dufton carried out site visits at four hotels in each location in May before making a decision on the final venues.
Objectives
Fortnum & Mason aims to develop relationships with new and existing clients across the UK, and uses the showcases to provide a preview of its products.
In the past, the preview events have only been open to corporate buyers, but from last year that was extended to private customers as well. "It is the one time we manage to get out and about," says Dufton. "The events are informal and it is a good way of meeting our clients outside London."
Venues chosen needed to be 'on brand' to fit in with Fortnum & Mason's reputation and image. "When we look at where we are going we look at where our clients are based, as well as at venues and cities that are a good fit," adds Dufton.
Challenges
Traditionally, Fortnum & Mason would only consider five-star venues to run its annual product showcase events, but extended its search to ensure the events remained on budget and could be accommodated in the chosen cities. "The most important thing was that the hotel was on brand," says Dufton. "The Malmaison in Birmingham was a bit of a breakaway because it is very modern, but we felt it worked very well."
Fortnum & Mason carried out all the planning in-house, and needed to be extremely well-organised in terms of time, as the showcases were held every Tuesday and Thursday throughout September.
"We had a full Christmas tree to decorate at each venue, which was then taken with us, along with the other elements of the set-up," adds Dufton.
Solutions
A five-strong team from Fortnum & Mason was involved in organising the corporate showcase, collaborating closely with events co-ordinators from the chosen venues.
Chester Grosvenor senior events co-ordinator Joanna Bridge says: "It was a very good turnout as guests could come and go throughout the evening."
The Fortnum & Mason team began preparing for each event at 9am, dressing the rooms with festive products and setting up tables and a large Christmas tree. Guests were invited to arrive from 5pm, when they were treated to Champagne and canapes throughout the evening, which ended at 8pm.
Choosing some four-star hotels, which met Fortnum & Mason's brand requirements, also allowed the retailer to stay within budget.
Client verdict
"People were really pleased we had taken the time to visit them, and the feedback from each event was very positive," says Dufton. "We have used the Balmoral in Edinburgh and the Chester Grosvenor before so they are very aware of what is involved."
Post-event analysis
Fortnum & Mason is currently carrying out its post-event analysis. "It is not always easy to track the ROI because clients might place orders we don't know about, but initial signs are that it was very successful," says Dufton.
TIMELINE
April 2010: Fortnum & Mason begins venue enquiries
May 2010: Site visits to venues across UK
September 2010: Product showcases held at six venues across the UK


Have you registered with us yet?
Register now to enjoy more articles
and free email bulletins.
Register now
Already registered?
Sign in