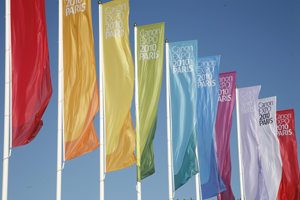 FACTFILE
Client: Canon
Event: Canon Expo 2010
Group size: 15,000
Agency: Imagination
Date: 12-14 October 2010
Venue: La Grande Halle, Paris
Budget: Undisclosed
Pre-event planning:
The Canon Expo event takes place every five years, with 2010 featuring three events - in Paris, New York and Tokyo.
The Paris expo, which Canon appointed agency Imagination to produce, was expected to attract 15,000 delegates over three days from within Canon's business, as well as from its buyers such as electrical stores or commercial users including the BBC. Around 1,500 of the delegates were from the UK.
Canon's European brand communications director Cyprian Da Costa says: "We launched a new brand strategy and identity about three years ago and although we had managed to roll it out, we hadn't looked at the experiential part of it and how we communicate the brand at live events."
After choosing the Grande Halle in Paris for its 2010 European expo back in 2007, Canon picked Imagination in 2009 to execute the major event, with the theme We Speak Image.
Objectives:
Canon wanted Imagination to bring to life its new corporate identity and brand strategy in a live environment.
Imagination's director of events Guy Stevenson says: "Canon had a very clear brief.
It was about bringing the internal identity One Canon to life; showing their corporate guidelines from an experiential perspective and creating an integrated experience from beginning to end."
The expo was to be divided into eight zones, covering Canon's business divisions ranging from commercial photo to medical imaging.
Da Costa explains: "Canon stretches across business-to-business and business-to-consumer sectors, but we wanted the same look across the ranges.
"The event needed to be engaging, show off our technologies, and bring the brand to life. Being passionate about the power of image is our brand value, so that was the overarching brief for the exhibition."
The expo was to be launched with a visually engaging opening ceremony featuring Canon's top executives, while around 25 breakout and educational sessions would take place during each day of the event.
Challenges:
The different zones of the expo needed to be distinct and unique to the market covered, while fitting in with the overarching brand image.
Da Costa says: "There are so many different stakeholders, so each zone is almost like a separate client."
It was a particular challenge that resonated with Stevenson: "We weren't dealing with one client. There is the client with the overall vision, but when you get into each of the business divisions you are dealing with different stakeholders. All their needs have to be balanced. That is a challenge in itself."
In addition, having chosen the historic Vallette Grande Halle as the venue for the event, there were a number of structural issues to consider.
The cast-iron architecture of the Grande Halle, a former cattle market, was constructed in 1867 and although conservation work was carried out in the 1980s, there were practical concerns around loading.
"We almost pitched as hard to the venue as to the client, because we needed them to be on side," says Stevenson.
A domed projection screen, which had been used at the New York expo in September, also needed to be transported from the US to Paris in time for the construction.
Room bookings also needed to be co-ordinated, local actors and models hired to appear in demonstration sessions, and a hospitality tent created to provide refreshments.
Solutions:
Imagination worked closely with individual parts of the Canon business to ensure parity across the zones, as well as getting to know all the stakeholders.
Colour coding gave a "visual language" to connect each of the zones, with the theme running throughout the expo. Coloured flags and photo panels outside the Grande Halle initiated the "colour system" theme, which was then replicated in each of the different zones, and on branded handbooks.
"We tried to give a seamless journey from beginning to end and allow people to get the message in an understated way," says Stevenson. "Wherever you are in the building, you have a sense of space and place."
A frame image - part of Canon's new identity - was also used to create focal points, both within the expo and on the outside of the building. The icon was even worked up into ten structural frames standing nine metres high and placed in a rib-like configuration in the hall.
"It gives Canon a sense of ownership of the space," adds Stevenson.
Canon also worked with Kuoni to organise accommodation, allocating certain hotels to each of the countries attending.
A gala dinner for 600 of Canon's top customers was held at The Louvre, and run by German agency Zobelfilm.
In terms of the venue, Imagination brought in rigging and lighting and up to 230 staff were on site building over a period of 12 days. "We had 20 people in the events team working on this solidly for the four months leading up to the expo," adds Stevenson.
Floors in the venue had to be reinforced to cope with the weight from Canon's commercial products. Imagination's Canon account director Clare Johnston says: "Design was done in the very early stages as this was a unique venue."
Client verdict:
Canon's European event and hospitality manager Linda Hedlund-Klein says: "As a client I didn't have to worry about anything. It was a very smooth process. I had no idea the expo would look like this when I first saw the venue three years ago, and it was much better than I visualised."
She adds that construction of the expo site had run to time and budgetary constraints, with Imagination monitoring all other suppliers.
Meanwhile, Da Costa says the "attention to detail" really stood out. "From a logistics point of view it went fantastically well, as well as making a statement of Canon as a brand," he explains. "It seems more cohesive this time."
Post-event analysis:
"We do a satisfaction survey and get feedback from all the communications managers in different countries as it is a showcase for our products, as well as a place to bring our customers," says Da Costa.
A retail intelligence solution (RIS) was also set up in the hall, with more than 60 cameras around the venue so Canon could analyse which parts of the exhibition were attracting the most delegates.

TIMELINE
2007: Canon choose the Grande Halle in Paris to host Expo 2010
September 2009: Imagination begin work on the event
November 2009: The agency begins talking to the venue
June 2010: 20-strong Imagination events team starts finalising event
September 2010: Actors and models hired
12-14 October 2010: Canon Expo takes place
Have you registered with us yet?
Register now to enjoy more articles
and free email bulletins.
Register now
Already registered?
Sign in