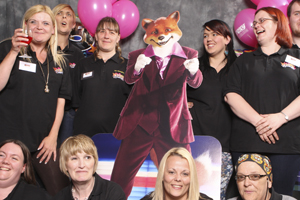 Pre-event planning
This was the fifth birthday event for the online bingo site, but the first held in the UK. The format was expanded to a weekend, with a networking reception between players and the client's chatroom hosts, plus a gala dinner, on the first night. The objective was to generate feedback and ideas for Foxy Bingo staff. "It was all about building relationships," says Foxy Bingo promotions manager Grace McMillan. "But we also wanted an informal and quite unscripted event." Blackpool was chosen as they felt it reflected core brand values as an entertainment website. They approached Lancashire & Blackpool Conference & Meetings three months before the event, which recommended the Cliffs Hotel Blackpool.
"The conference bureau really understood what we wanted to communicate and came back with good ideas," says McMillan.To generate excitement, Foxy Bingo ran a competition to win expenses-paid places for the event. Final details were agreed two weeks before execution.
Challenges
The main challenge for the venue was that the client block-booked 80 rooms but couldn't provide final names and numbers until two weeks prior to the event. They also requested private use of the ballroom and, to foster an informal atmosphere for delegates, to decorate the hotel with branded Foxy Bingo signs, balloons and cutouts. The hotel was full, with its other 83 rooms taken by paying guests.
Solution
The key to handling the logistics and informal style was daily communication between the client and the venue. The latter adopted a flexible approach to requests. "It was an unusual booking and we were unsure about the impact of the event around the hotel at first, but the team entered into the spirit," says Cliffs Hotel business development manager Pamela Smith. The group had pre-dinner drinks in a private room before joining regular guests in the restaurant for a three-course meal on Friday night. For the Saturday afternoon networking and bingo games, they had use of the hotel's 300-capacity ballroom. "We were very impressed by the willingness of the hotel to accommodate our requests," says McMillan.
Post-event analysis
The client issued feedback forms to all delegates. Respondents liked the flexibility at the hotel and free time to explore. Foxy Bingo staff welcomed the chance to learn from direct customer contact. "The conference bureau and venue were both spot on. We would look at returning within 12 months," says McMillan. Smith adds: "We learned that being flexible to accommodate a non-mainstream event can be a valuable booking."
FACTFILE
Client: Foxy Bingo
Event: Players' networking event
Group size: 120 delegates
Agency: In-house
Date: 11 June 2010
Venue: Cliffs Hotel Blackpool
Budget: Undisclosed
Have you registered with us yet?
Register now to enjoy more articles
and free email bulletins.
Register now
Already registered?
Sign in