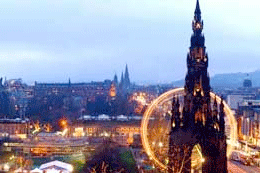 Despite temperatures plunging to -10C there are no reports of any major conferences being cancelled, according to the ECB.
The winter events involve up to 4,732 delegates and cover topics including physics, astronomy, biochemistry and echocardiography.
The ECB reports that the economic value of confirmed conferences so far this year now stands at £53.4m.
ECB chief executive Sue Stuart said: "The early onslaught of winter weather has as yet not had any significant impact on conferences due to be held in the city. That's good news for the local economy. So far we have had a good year in helping attract meetings to the city and I'm confident we will achieve our target of bookings with a total economic value of £75.7m confirmed by the end of the financial year in April 2011."
Destination Marketing Edinburgh Alliance (DEMA) figures show that in the first nine months of the year the average room occupancy was 77.4%, up from 75.5% in 2009.
Within the UK, Edinburgh's room occupancy is now surpassed only by Greater London, where it stands at 81.3%.
Airport passenger numbers decreased by almost 5%, but this is put down to a dramatic decline in the second quarter when volcanic dust from Iceland led to the closure of European airspace.
Have you registered with us yet?
Register now to enjoy more articles
and free email bulletins.
Register now
Already registered?
Sign in