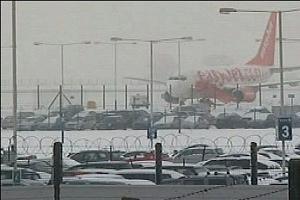 EIBTM passengers destined for Barcelona today have been left stranded after Gatwick Airport closed this morning.
Flights cancelled
At least four flights to Barcelona - at 7.30, 10.00, 13.50 and 18.15 today - have been cancelled as a result of the snowy conditions.
EIBTM exhibition director Graeme Barnett told C&IT that a group of around 100 hosted buyers was stuck in the UK following the closure of Gatwick, but expected details of more stranded passengers later.
Travel doubtful
"We have one group of 100 passengers we specifically know is at Gatwick Airport now and we are trying to work out how to get them to the show but that may be doubtful," said Barnett.
"Our hosted buyer team have been working through the night with our colleagues in the UK and our network across Europe to keep abreast of the latest delays. We are talking to airlines and airports now."
Excel and ADNEC delays
EIBTM attendees including Excel chief executive Kevin Murphy and Abu Dhabi National Exhibitions Company sales manager Darwich Al Khamiri embarked on journeys of up to 12 hours to get to the show yesterday.
Meanwhile, in hosted buyer lounges at EIBTM, delegates desperately tried to gain information on travel arrangements.
Hosted buyer Rachelle Valladares, from venue finder Meetings In, flew to Barcelona from Gatwick yesterday and was delayed by almost two hours after the runway closed then re-opened.
Struggling
Valladares is booked onto a 5.30pm Easyjet flight from Barcelona to Gatwick this afternoon, but still struggling to gain information.
"We have to go to the airport to try to get Easyjet to re-book us because that 5.30pm flight is not going anywhere," she said.
"It is not Reed Exhibitions´fault; it is beyond anyone´s control. I am happy to stay but I want to know I am going to get somewhere or not so I can plan."
Have you registered with us yet?
Register now to enjoy more articles
and free email bulletins.
Register now
Already registered?
Sign in