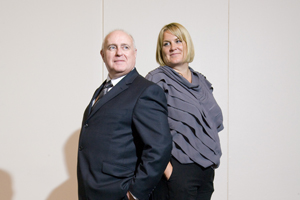 Derick Shaw, business services manager – travel and transport, Aviva
I joined Norwich Union, as the business was called then, around seven years ago and there was a travel supplier, but not an industry professional. All the PAs used to do their own meeting room bookings so they were paying full rates, that was the final piece of the jigsaw for me to engage a professional meetings agency.
Banks Sadler gained everyone's confidence in the RFP process and really offered us belt and braces. I have been in the industry for 45 years and would have head hunted Leigh for my own business.
We have just appointed the agency for another four years after an initial three-year contract and we stay in touch about once a week as well as meeting once a month.
We go through an RFP process for every contract but I do think Leigh must have been a bit hurt, but when she realised Banks Sadler had kept the contract she was very pleased.
Leigh's professionalism is her best trait and she is very tenacious. If there is ever a complaint about a venue, she will ensure we get a reply. She will even go down there and wait until she gets a reply in writing that day.
I have found Leigh to be exceptional. If she were ever to leave, she would be sorely missed.
Leigh Cowlishaw, account director, Banks Sadler
I have been working on the Aviva account since 2007 and I first met Derick though the RFP process in the build up to our contract.
We first met in person in late 2006 and we went live on our contract in January 2007.
My first impression was that Derick was very knowledgeable in industry issues as he has had a lot of experience within the meetings, events and travel sectors.
Derick is very fair and we work very well together with a united front – we sit down together to decide on what is best for the account.
We try to meet on a monthly basis to talk about strategy and issues such as industry news that might impact on the account.
He has sat on the Institute of Travel and Meetings board and was a director for five years until last December so we always have some good debate on hot industry topics, such as T&Cs and corporate manslaughter.
We were reappointed the account from August this year and we are looking at how to move the account forward, in terms of the profit programme and Aviva's policy management.
I'd like to think Derick would say I'm very honest and hard working. For me, he is the lynch pin of the organisation.
Have you registered with us yet?
Register now to enjoy more articles
and free email bulletins.
Register now
Already registered?
Sign in