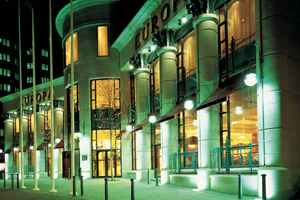 Pre-event planning
Accord is a trade union representing employees within the financial sector who worked for HBOS and, since the takeover in January 2009, the Lloyds Banking Group.Every two years around 200 delegates, representing the group's 30,000 members, meet to set the union's agenda. The conference has taken place in a range of venues from Manchester to Glasgow. The decision to host the event in Belfast for the first time in the organisation's 32-year history was made in October 2009 after the union's executive council took a tour of Belfast. Accord regional officer Jim Fielding says choosing the city was also a demonstration of support for its members in Northern Ireland. "We have good membership take up in Belfast, with 1,300 of the 1,500 employees in the city members of Accord," he explains. "And potentially we were taking 200 people to Belfast who had never been there before."
Challenges
The conference was scheduled to take place in April but was affected by the volcanic eruption in Iceland that closed international air space. After six months of planning the event was cancelled with just 32 hours' notice. "Flights were booked, buses, our evening entertainment, our meals: everything was organised at that point so it was a matter of rebooking everything - a huge logistical task," recalls Fielding.
Solution
Fielding praises the Europa Hotel, which housed the event, and says it must take the credit for enabling the meeting to be rescheduled so easily. "Their flexibility and the way in which they worked with Accord really stood them apart. It was above and beyond the call of duty," he says. "Fortunately we have a good network so informing members of the change of plan was easy and as there was no air travel at that time no flights were taken erroneously," he adds.
Post-event analysis
Over the three days the delegates debated and voted on more than 70 motions, the outcomes of which will form the basis of Accord's discussions with the bank over the next two years.
"In terms of the venue we had in the region of 80-85 per cent of attendees saying it was the best experience ever. The accommodation was way above average and, in our opinion, was very good value for money," Fielding adds.
FACTFILE
Client: Accord
Event: Biennial conference
Group size: 200
Date: 23-25 June 2010
Venue: Europa Hotel
Agency: In-house
Budget: Undisclosed
Have you registered with us yet?
Register now to enjoy more articles
and free email bulletins.
Register now
Already registered?
Sign in