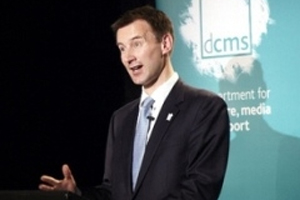 DCMS is planning to cut its spend from £2.6bn this year to £1.2bn by 2014/15, despite pledging to help growth in the tourism sector.
The London 2012 Olympics will be a key focus for the department as it aims to project a positive image of the UK, according to the DCMS business plan, published on 8 November.
Visit Britain restructure
But there are also plans to restructure Visit Britain by March 2013, to "ensure better targeting of high value and emerging tourism markets".
Secretary of state for culture, media and sport Jeremy Hunt said: "Our vision is to help create the conditions for growth in the creative and cultural, tourism and leisure economies, removing barriers to innovation and levelling the playing field. Where we judge there is a need for a particular intervention, we will provide real support and set strategy and direction. But we want our sectors to drive their own agenda."
Meanwhile, Visit London, which is part funded by the London Development Agency (LDA) is in talks on future plans after learning the LDA would lose most of its £480m budget as part of Government spending cuts.
Department for Business, Innovation and Skills
The Department for Business, Innovation and Skills (BIS) will cut 22% of its £18.6bn budget by 2014/15, but secretary of state Vince Cable announced plans to encourage small and medium-size business entrepreneurship.
New enterprise tsar Lord Young was last week urged by the events industry to end "doom mongering".
Business Visits & Events Partnership chairman Michael Hirst said that "considerable cuts" had been expected, and the most critical issue was continued support for the conference and events sector from government departments.
"I don't think the DCMS business plan causes us any consternation because the most important thing is that they champion what we do in Whitehall in general," said Hirst. "Sporting events are a large focus, but a big medical conference can bring as much economic benefit, if not more."
Arbitrary cuts
However, Motivcom divisional managing director Nigel Cooper said the cuts were arbitrary in the absence of an ROI approach.
"Maybe it would be more beneficial for organisations in this field to look at applying for marketing budgets on a case by case basis, depending on the economic value they generate," he said. "We have to work like that in the commercial world."
Conferences consultant Tony Rogers added he would like to see the events sector developing greater ties with BIS to build on its strength in "generating new areas of the economy such as knowledge".
"If we can get government departments generally supporting bids for major conferences that would be a tangible way of showing their support that doesn't require money," said Rogers.
Have you registered with us yet?
Register now to enjoy more articles
and free email bulletins.
Register now
Already registered?
Sign in