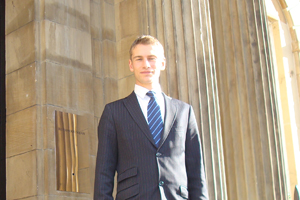 David Barkley is in charge of events at Blythswood Square, a new five-star addition to Glasgow's hotel scene. The former Royal Scottish Automobile Club building was reopened as a luxury hotel in October 2009. This September, it finally completed its four-year refurbishment programme when it opened a 930m2 spa and penthouse apartment.
Barkley joined Town House Collection, the company that owns Blythswood Hotel, when he worked in one of its Edinburgh restaurants. He became a graduate trainee and within 18 months had become assistant manager at Bonham Hotel. He moved to Blythswood Square a year ago in the run up to the hotel's opening.
7.30am: Work begins with a walk around the hotel to make sure everything is in place for the day's events. I check our newly completed Penthouse Suite Apartment, which is the most expensive room in Glasgow at £1,500 a night. It's also great value for what you get - an amazing view over the city, a private lift, butler service and a furnished rooftop terrace. While we obviously sell the room, it's also a great marketing tool to show the standard of luxury that the hotel offers. Before we opened, I spent a few months touring Glasgow's major law firms, financial institutions and smaller firms to present our events offering. It was difficult because I only had a single image of a sample bedroom to show people. But although we opened the hotel during the recession, we didn't have any problems attracting event bookings. It was like Charlie and the Chocolate Factory - we had taken this very unique building steeped in history and local memories and spent four years developing it. Once we finally opened, everyone was eager to get in and see how it had changed.
8am: I check my emails at my desk to catch up with anything that's happened during the night.
9am: My assistant arrives and I spend time with her discussing the week's upcoming events and staffing requirements. At 10am the hotel's 12 heads of department attend an operations meeting. My role is to discuss yesterday's events and revenue figures, any exciting contracts that we've won and what's happening during the day.
12pm I don't have a strict structure to my day following the operations meeting, as every day working at the hotel is different. I also prefer to manage events from initial enquiry to execution to provide a more personal service. Today, I meet with client Historic Monte Carlo Rally to discuss requirements for its first rally since the 1970s, next January. We're expecting thousands of people to gather outside the hotel's front doors from where the cars will set off. The client is also using the hotel as a base for three days: it has 60 guests and will host a dinner for the rally directors. I will ensure the bar is fully stocked as I'm sure it will be a busy few days in January.
1pm: I eat some lunch in the hotel before heading to my next meeting with Brewin Dolphin, an investment firm. It has already used the hotel for several events and we discuss plans for next year.
3pm: Next is the management meeting. We brief the new duty manager on what's happened that day and run through the evening's events.
4pm: Today is the weekly communications meeting with the director of operations or the managing director. We discuss future business and any dates where we need sales and marketing support to fill the gaps. We position ourselves as the best five-star hotel in Glasgow, and one of the best in Scotland. Even during the recession we promoted ourselves like this because there was a need for a luxury market in Glasgow and we wanted to stick to our ambitions.
5pm: I return to my desk to catch up on paperwork. I also draw up future plans. I'm keen to set up associations with luxury brands, attract more car launches (we have already hosted three this year) and promote the hotel to the fashion houses. All of our soft furnishings are Harris Tweed and several fashion houses are using this in their collections at the moment.
6.30pm: Return to the events space to make sure everything is on track for Sotheby's dinner for 80 guests. I welcome the client and stay throughout the evening, popping back to my desk every half an hour.
9-11pm: I finally arrive home. It's a long day, but I get through it by eating large amounts of food. The head chef once worked out that I had eaten 4,500 calories in eight hours. But I certainly burn it off.
DIRECTORY
Visit: Scotland's Business Tourism Unit
Contact: Lindsay Brown
Tel: 0131 472 2355
Email: Lindsay.Brown@visitscotland.com
Web: www.conventionscotland.com
CASE STUDY: PSA Peugeot Citroen at SECC
Pre-event planning: Car manufacturer PSA Peugeot Citroen wanted to run a customer service training programme for all its customer-facing dealership staff across Europe, from sales managers and heads of dealerships to technicians. Both Peugeot and Citroen brands want to be one of the top three for customer service in the automotive sector by 2012. PSA has worked with Adding Value on previous events, so it briefed the agency to run the programme for 7,100 employees in the UK. Adding Value managing director Tina Morris said she selected the SECC for the Scottish leg of the programme, "because it had good road and air access for employees who lived in Scotland and the North of England, it was a flexible space, had excellent catering and could offer good rates".
Challenges: "It was a complex logistics exercise," says Morris. The agency had less than three months to organise the roadshow, which took place in three locations across the UK. It also had to find accessible venues to ensure employees didn't have too far to travel.
Solution: Staff from Peugeot and Citroen brands were invited to attend the SECC on alternate days. The programme used experiential training methods, so acting troupes were present to run roleplay sessions with the employees. There was a main plenary session each day before the employees were split into groups with the actors. Leiths, the SECC's in-house caterers, provided the food.
Post-event analysis: The agency circulated online feedback forms. Morris says that she received very positive feedback, particularly from the Scottish delegates who usually have to travel down to England.
"We took the event to them, and this was really well received," she says. PSA administration manager Phillip Price says: "The venue for our Scottish leg worked extremely well for us. The exhibition centre is ideally located, with impressive facilities, and the internal support team were well organised and flexible. The SECC is a pleasure to deal with."
PSA is considering holding the event at the SECC next year.
FACTFILE
Client: PSA Peugeot Citroen
Event: Podium 2010s
Group size: 1,200
Agency: Adding Value
Date: 26-30 April 2010
Venue: Scottish Exhibition and Conference Centre (SECC)
Budget: Undisclosed
Have you registered with us yet?
Register now to enjoy more articles
and free email bulletins.
Register now
Already registered?
Sign in