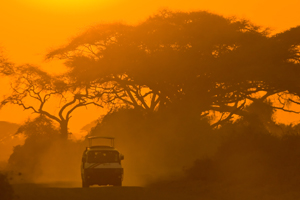 Pre-event planning: Following a five-way agency pitch, Peugeot appointed Adding Value to run its 2010 sales incentive trip.
The agency secured the business on Christmas Eve last year and immediately started planning, as the incentive was to be announced to dealer principals at an annual national business meeting on 8 January.
Destination options offered to Peugeot included Bermuda, the Maldives, Masai Mara in Kenya and Zanzibar.
The Indian Ocean island of Zanzibar was chosen, along with the Masai Mara, where participants would take part in safari game drives.
Adding Value managing director Tina Morris says: "Peugeot wanted a maximum flying time of 11 hours, as well as a trip that would take place in the summer, but not during the school holidays."
The requirement to engender a real sense of excitement and enthusiasm in the dealers meant that Adding Value came up with a distinct communications programme that would create a strong desire to be involved.
Immediately following the national business conference, scrapbook-style travel journals filled with breathtaking images of the chosen destinations were sent to dealers' homes, wrapped in palm leaves. The coming months saw a concerted mail and digital campaign in the lead-up to the third week of April, when winners were announced.
Objectives: The aim of the incentive was to secure a sales lift in the first quarter of 2010 among Peugeot's 450 dealer principals. Following the recession and resulting gloom in the automotive sector, the idea was to ensure enthusiasm among dealers.
Morris explains: "Peugeot wanted an incentive which would be motivational for a very discerning audience of dealer principals and their wives."
The initial brief covered 65 dealers and guests, but because the incentive was run on a 'hit target and go' basis, a total of 112 dealers ended up qualifying.
"The idea was to provide an opportunity to visit a location and plan an experience that would ensure the incentive was part of dealers' first quarter strategy from the outset," explains Morris.
Challenges: The incentive proved so popular that the group size almost doubled from 65 dealers plus their guests to a total of 224, including partners.
"It wasn't just a question of the planning, but also the size of the venues we had chosen," explains Morris. "If we were at the Atlantis in Dubai, it wouldn't have been a problem, but on a safari you are limited."
In addition, the nature of the destinations meant that some venues weren't equipped with all the facilities that Peugeot wanted to provide the unforgettable experience planned.
The small airport in Zanzibar also posed a challenge. "It wasn't geared up for a lot of passengers and was quite chaotic," says Morris. "This was one of the main concerns following the first site inspection and was a priority."
Meanwhile, a bomb threat in Nairobi on 16 June forced Adding Value to devise an emergency contingency plan for the farewell dinner at the Ole Sereni hotel.
Solution: To get around the issue of the larger-than-anticipated group size, Adding Value decided to run two trips back to back, with the first group flying to Kenya followed by Zanzibar, then a second group arriving for a repeat of the four-day experience.
A football-themed welcome dinner was held at the Intercontinental Nairobi to tie in with the World Cup. Dealers in the first travel group were able to watch the England v USA game on a large screen brought in from the UK. The second group enjoyed the England v Algeria game under the stars, projected onto a rock face.
Southern African DMC Green Route was appointed to help out with on-the-ground planning, while local agency Gallery Tours was assigned the task of assisting at the airport in Zanzibar.
"Normally a maximum of ten VIPs arrive through Zanzibar airport, but Gallery Tours managed to help us do all the paperwork beforehand so that passengers could be escorted through the airport easily," reveals Morris. "They were welcomed to the Spice Island with a fresh coconut and cold towel - all the hard work done on their behalf."
While in the Masai Mara national reserve, guests were treated to surprise sundowners and hot canapes at Mara Triangle, right in the middle of the bush.
The trip also included a bush dinner with local Masai dancing and after-dinner drinks around a fire, a Swahili dinner in Zanzibar and a beachfront feast.
The Ole Sereni hotel's Eagle's Grill in Nairobi hosted its first ever group dinner for the Peugeot guests.
"They are a very discerning audience, but the dealers loved the experience," says Morris.
During the incentive a collection was made, which contributed to a school in Zanzibar, along with pens, t-shirts and other branded items.
Client verdict: Peugeot UK dealer events and incentives manager Louise Dowling says: "From launch, the contrast between the two experiences really did excite and motivate the audience. There were many challenges along the way, with double the initial group size qualifying, a lack of appropriate infrastructure in Zanzibar and a demanding audience with very high expectations.
"But the fantastic logistics, meticulous planning and many contingencies put in place by Adding Value were amazing. The whole team demonstrated such energy and passion and a real attention to detail throughout what was a lengthy planning process. Our challenge now is how we follow that."
Post-event analysis: Immediately upon return, guests were sent an event-branded email inviting them to complete a survey. To entice the guests into participating, access to the photo section of Peugeotnet was sent to guests as a thank you for completing the survey, which resulted in a 98 per cent response rate. This has resulted in a quarter one sales uplift of around 55 per cent.
FACTFILE
Client: Peugeot
Event: Q1 dealer incentive
Group size: 224
Agency: Adding Value
Date: 12-22 June 2010
Venue: Mara Serena Safari Lodge, Kenya; Neptune Pwani Beach Resort &
Spa, Zanzibar
Budget: Undisclosed
TIMELINE
December 2009: Peugeot appoints Adding Value to run incentive
January 2010: incentive launched at Peugeot's national dealer conference
February 2010: First site visit to Africa and dealers sent a teaser
April 2010: Second site visit to Africa and winners announced
May 2010: Reminders sent about vaccination and luggage allowance
June 2010: Incentive takes place
Have you registered with us yet?
Register now to enjoy more articles
and free email bulletins.
Register now
Already registered?
Sign in