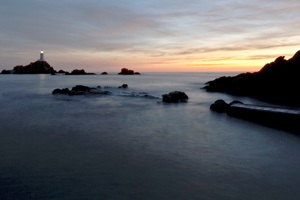 Plain sailing
Jersey Sailing
What better way to experience the island's coastline than to raise sail and harness the power of nature with a corporate sailing day. Jersey Sailing offers a range of yachts for groups of seven or 12 delegates. The morning can be spent sailing towards one of Jersey's offshore reefs or bays to enjoy a leisurely lunch before setting sail back to St Helier for post-sailing drinks. Or alternatively, enjoy a gentle sail along the south coast of Jersey before anchoring in Beauport Bay for lunch and a spot of snorkelling or swimming. www.jerseysailing.com
Barrel of laughs
Hi 5
Agency Hi 5 will get delegates rolling around with its barrel-building challenge. Six teams of six are formed. Groups of three delegates from the first three teams have to dismantle and rebuild a brandy barrel and then roll it to where the remainder of their teams are waiting. They then have to dismantle and rebuild it again before rolling it back to its start position. While the first three teams are competing, the other three teams will be wine-tasting - they then swap over. If the barrels are reassembled badly, it's impossible (but highly entertaining) to roll them without them falling apart. The team that completes the task in the shortest time is judged the winner. www.hi5jersey.com
Historic retreat
Seymour Tower
Seymour Tower is located two kilometres out to sea in the Royal Bay of Grouville and was built in 1782 as part of Jersey's coastal defences against French invasion. Groups of seven can stay overnight in the tower and reach it via an hour-long kayak trip, organised by Jersey Odyssey. The tower contains three bunk beds on the first floor and a further bed on the living quarters level. At high tide the tower is completely cut off and at low tide, groups can explore the surrounding sand bars and witness the phosphorescence in the pools. www.jerseyodyssey.co.uk
Island heritage
Living Legend complex
Jersey's multi-million pound Living Legend complex incorporates a multidimensional insight into the island's heritage and history via the Jersey Experience. A series of walkways and displays bring guests to the Nautilus room. Drinks are served before delegates are invited to cross the moat to reach the site of a manor house sunk deep beneath the sea. Here, Jersey's dramatic past unfolds during a 30-minute three-dimensional spectacular incorporating special lighting and sound effects. The village also hosts themed medieval evenings and boasts a golf course and karting complex. www.jerseyslivinglegend.co.je
Top table
The Atlantic Hotel
The Atlantic Hotel in St Brelade is set in six acres of private grounds adjoining La Moye championship golf course and overlooks St Ouen's Bay with its five miles of golden sands. Its fine-dining Ocean Restaurant was awarded a Michelin Star in 2010 and head chef Mark Jordan is available to host bespoke cookery classes for C&I groups. The hotel's events manager Anna Robbins can arrange for delegates to visit Faulkners Fisheries, the seafood vivier housed in an old German bunker in the bay, before Jordan shows guests how to prepare the purchased lobsters, oysters or crabs. www.theatlantichotel.com
Out in the range
Les Mielles Golf Club
Just five minutes from Jersey airport, Les Mielles Golf & Country Club provides convenient and comprehensive facilities for any function. Set in an area of outstanding natural beauty, with St Ouen's Bay as a backdrop, Les Mielles boasts a championship 18-hole course, miniature golf, laser clay shooting, Segway rally and driving courses. Rocco's restaurant with al fresco bar and BBQ also offers an excellent end to a day of team-building fun. www.lesmielles.com
Home grown
La Mare Wine Estate
La Mare Wine Estate, Jersey's only vineyard and distillery, can cater for up to 300 delegates in a marquee on the main lawn or 160 for dinner in its conference room. Wine-themed group activities include aroma competitions, competitive wine tasting, wine-blending challenges and barrel building. Private tours of the estate in St Mary start with a stroll through the vines and orchard, before witnessing the wine-making process in the winery. The tour concludes with a tasting of La Mare's Jersey wines and Jersey apple brandy out on the lawn. www.lamarewineestate.com
DIRECTORY
Jersey Conference Bureau
Contact: Gemma Owen
Tel: 01534 448852
Email: gemma.owen@jersey.com
Web: www.jerseyconference.co.uk
BUYER VERDICT
Why do you feel Jersey works for events?
Nigel Cooper, divisional managing director, travel and events division, Motivcom
Jersey is often tagged with being a destination specifically for the banking sector but it shouldn't be. The island has excellent hotels and conference facilities, ideal for pharmaceutical clients as well as other sectors. In this budget-conscious environment, it is cheaper to fly to Jersey than it is to get the train from the south to the north of England. There may not be a wide choice of five-star properties, but clients are looking for good value four-star hotels now and Jersey has plenty. Its warm climate provides a feeling of having travelled abroad and yet there's a shared common language and everyone drives on the correct side of the road.
Nick Kershaw, group chief executive, Ogier
For the last two years, Ogier has held its annual Partners' Two-Day Retreat at the Atlantic Hotel. The hotel itself is in one of the most stunning locations in Jersey, overlooking St Ouen's Bay and it definitely feels as if we're 'on retreat' away from the world to catch up with our fellow partners, who travel in from BVI, Cayman, Hong Kong, Guernsey and London. The hotel provides a first-class service for demanding business people. They cater for our sometimes-unusual requests, from setting up a games room to entertain our partners in the evenings to providing sandwiches at 1 o'clock in the morning. The service is seamless - nothing is too much trouble, the food is excellent and there's a relaxed and friendly atmosphere throughout the hotel.
John Walker, managing director, Oxford International
Jersey suffers from its image as a holiday destination but with great value business hotels, a warmer climate, fabulous golf courses and really great restaurants, it is definitely one to consider for the budget-conscious event planner. In the past, access and exclusive use of hotels may have been an issue due to the size of the island but, with careful planning in advance, this is easily overcome and once there, everywhere is accessible and plenty is even walkable. Jersey's relatively untapped offer makes it a great value choice and its meeting facilities are first class.
Have you registered with us yet?
Register now to enjoy more articles
and free email bulletins.
Register now
Already registered?
Sign in