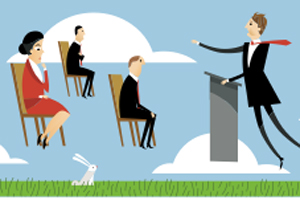 'Greenwashing' may have given sustainability a bad name, but the issue has now come back on the agenda after two years of economic crisis.
Recycling boxes are in the lobby, local food is served at lunch and the organisers have spent their spare moments painting a homeless shelter, but do delegates and clients care?
Clear business drivers
Yes, says Barclays associate director of sustainability Kathryn Mintoft, who believes there are "very clear business drivers" for taking the issue seriously. "It comes down to expectations," she says. "People do get very irritated with wasted money and resources."
While sustainability often goes hand in hand with an environmental theme, the idea of securing economic and social stability has grown.
Seventeen Events founder Louise Davies says there has been a resurgence of interest in sustainability, partially driven by the message of saving money.She prefers the term 'responsible events', however, as sustainability is overused. "Probe your suppliers," urges Davies. "And think about the social side as well."
Seventeen Events works with social enterprise Connection Crew for its staffing requirements, with profits going to charity. The business employs 25 per cent of its staff through an employment support programme for ex-homeless people.
Evidence
Innovision also took this approach when organising the London 2012 Business Summit on behalf of the Department for Business, Innovation and Skills last year, using some staff employed through the Personal Best skills programme.
DRP Group managing director Dale Parmenter says that, increasingly, clients are not willing to accept unproven statements. "Clients all want evidence of what you are doing," he says. "It is everything from online registration to recycling."
Thomas Cook, Sainsbury's, Monster.com and Lloyds are all advocates of a sustainable approach, adds Parmenter, and he believes that will increase as the economic clouds clear.
Indeed, corporate event planners from brands including Credit Suisse, Barclays and Shell met to discuss the issues at a Council of Protocol Executives forum this autumn.
Council of Protocol Executives
Credit Suisse co-regional head EMEA of corporate events Jenny Farman says the business has achieved the standard ISO14001, and reports on its activities every quarter. "We don't send hard copy invitations or confirmations and name badges and signs are reused," she says. "I have to prove the number of online registrants and the information feeds back into the business."
Meanwhile, Shell senior marketing and events manager Keri McBurney says she has pushed the notion of using memory sticks for delegate documents, rather than printed brochures. "We don't want the story of build and burn on our shoulders," she explains.
Transport can be one of the biggest impacts, according to Seventeen's Davies, who recommends incentivising delegates to travel by public transport by offering discounts on paid events.
Measuring ROI
Organise This director Fiona Pelham says measuring ROI is a good way of ensuring the economic viability, while monitoring staff training and hours can be a useful way of tracking the social aspect.
Global Reporting Initiative guidelines specifically tailored for the events industry are being compiled by an international working group and will be published in summer 2011, which could provide a starting point for planners.
But the most critical point in achieving ISO14001 or BS8901 standards, warns Eco Events director Sam Wilson, is to embed sustainability in the business.
"It is essential that you create an integrated system rather than a separate bolt-on, which will use additional resources and cause fragmentation," she says.
Have you registered with us yet?
Register now to enjoy more articles
and free email bulletins.
Register now
Already registered?
Sign in