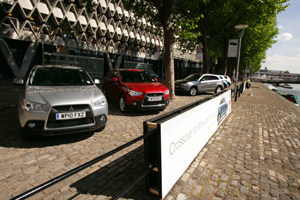 Company: Mitsubishi Motors
Event: Mitsubishi ASX launch
Group size: 40 delegates each day
Agency: In-house
Date: 21 - 26 June 2010
Venues: The Bristol Hotel and Bordeaux Quay
Budget: Undisclosed
Pre-event planning: Deciding on a date for the launch event of the Mitsubishi ASX was no easy task for general manager of marketing Haydn Davies. He explains: "We had to wait for confirmation from Japan of when our cars would be delivered. So we had a provisional date, but it was no more than three months before the event that we started to talk to venues."
Once the date was confirmed an email invitation was sent out to guests, which included dealer principals, journalists and fleet customers. Delegates could confirm their attendance by logging onto a dedicated website, and the company used Facebook to invite the public to view the car on the Saturday.
Challenges: The ASX is a new type of vehicle for Mitsubishi, which is better known for its four-wheel-drive cars. Usually it would use a countryside location for its launches, but in order to demonstrate a key feature of the ASX - Auto Stop and Go - it wanted a city with flowing traffic.
It was imperative to find a council that would grant licences to use public spaces to display the cars. Davies adds: "We also wanted an attractive venue that reflected the car and the type of buyer we were targeting. The ASX is a family car that is trendy and useful, so we were looking for a city that reflected those values."
Solution: Mitsubishi's events team decided to bring its customers to their home city. "We're a south west-based company. We import our vehicles into Bristol docks and the storage and distribution is based there so we thought it would be nice to bring people to our part of the world," says Davies.
The week-long event kicked off on Monday and Tuesday with a press day, followed on the Wednesday by fleet customers, including car-hire companies and the police, then dealer principals on the Thursday. Each day the group of 40 delegates had a presentation and then test drove the car from Bristol to Bath and back. The day ended with dinner at Bristol eatery Bordeaux Quay.
Post-event analysis: Mitsubishi sold 1,670 of its ASX model by early August. "You only get one chance to launch a product properly. If you don't get it right it is very difficult to pick the product up and relaunch it. We spent an appropriate amount of money on launching a car in a new sector that will be with us for the next six to ten years. We got a great return on it so we were delighted," says Davies.
"What came across for us, having done so many of these events across the country, was just how good Bristol Council and The Bristol Hotel were."
Have you registered with us yet?
Register now to enjoy more articles
and free email bulletins.
Register now
Already registered?
Sign in