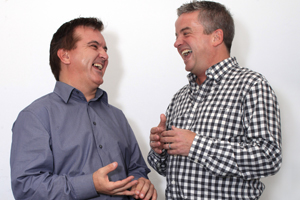 AG Barr PR manager Mark Jephcott
(AG Barr manufactures and sells soft drinks including Irn-Bru and Rubicon juices).
The first time I met Ian was when he came in to run a regular sales conference for us in Scotland in 1998. The previous year one of us had to operate a projector from a cupboard and we realised something needed to change in our approach.
Ian is a very personable, amenable guy who knows what he is talking about. All the way through the past 12 years he has offered us very sound, knowledgeable advice.
In 2001 we also produced a history book, which marked the 100th anniversary of Irn-Bru. I sat down with our former chairman Robin Barr and Ian, whose team helped with graphics and getting it out there.
The one thing Ian is never short of is ideas and he is very open and honest. The process to plan the annual conference in spring begins in November and we spend a lot of time talking on the phone and emailing. It is quite an intensive period.
I came up with the idea of a bar-style quiz and Ian introduced a keypad system that really changed the conference for us because it means everyone in the room can participate individually or as a team. We soon realised we could use it for the presenters as well.
With an event like this things can go wrong but Ian always remains calm in finding a solution, which has been very important for us over the years.
We don't spend enormous amounts of time together, but if there's chance for a beer, we'll take it. I did get an invite to Ian's wedding but unfortunately I was on holiday, otherwise I would have gone.
HGA Creative Communications live events director Ian Grime
When we first went to see AG Barr, the team was doing everything themselves in terms of running events.
The brands AG Barr produce such as Irn-Bru and Tizer are quirky and irreverent, and the first event we did was a pop art theme. They were blown away because they hadn't done anything like that before.
Mark really enjoys hosting the quiz that runs as part of the annual conference and he can't stay out of getting involved. He even has a desk in our office. Our relationship is very open, we just tell it like it is and Mark does take our advice on board but has lots of input as well. In the month leading up to the conference we speak every day.
Mark's enthusiasm and attention to detail is spot on – he is a lot of fun to work with. Although he is a client, we almost don't see him like that, which is a compliment.
You can never accuse Mark of being dull. One year we had a couple of directors on stage playing the Proclaimers, but once they had got a minute into the performance the real Proclaimers came on. He even organised a dance competition, which Carol Smillie came to judge.
Mark is the one that goes around the business and gets everyone involved. With the quiz show, he walks on stage right on cue and will be dressed in some tartan trousers and glittery jacket. Everyone cheers because everyone recognises his commitment.
Have you registered with us yet?
Register now to enjoy more articles
and free email bulletins.
Register now
Already registered?
Sign in