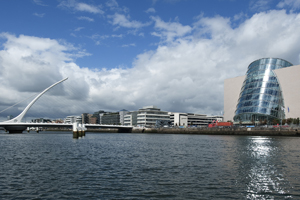 Keen to gauge the industry's perceptions of Ireland's C&I offer, Tourism Ireland held a destination focus group in London during May, attended by organisations including Ford, Imagination and Oxford International. Northern Ireland's viability as an incentive destination, access for groups travelling to and within the country and the value of its offer were among the issues discussed. Six months on, developments and investments in product and marketing are helping the country to address misconceptions and improve its events offer.
Northern Ireland v Republic of Ireland
Perceptions of the two regions came up as a key issue in the discussion. Despite a joint marketing campaign, Northern Ireland and the Republic of Ireland continue to be seen as separate destinations, said buyers.
Oxford International managing director John Walker commented at the time: "The south has the fun perception, while the north is for serious business."
However, the past year has seen new developments for both areas. David Boyce, deputy director Great Britain at Tourism Ireland says: "With the opening of the Convention Centre Dublin (CCD) in September we've been heavily advertising and getting the message across that we have business facilities in the Republic. Northern Ireland benefits from being part of the UK, so association meetings rotate here. But Dublin has much to offer event planners and we are increasing the messages we're putting out to the market."
Six months on, Walker says: "Generally we still believe that Ireland - especially Dublin - is the 'fun' destination, while Northern Ireland, is good for business." However, he adds: "The CCD has done a really good pre-opening marketing job and seems to be attracting a lot of attention."
Imagination director and ISES UK president Richard Foulkes attended the launch of the CCD. He says: "The centre opened my eyes that there is a new south, which is becoming more focused on business."
Meanwhile, Londonderry won its bid to be the first-ever UK City of Culture 2013 in July. Belfast's visitor figures for 2009 rose to 9.3m, a figure up 30 per cent on the previous year, set to be further boosted with the launch of several of incentive options, including Belfast's first maritime museum in autumn 2010, followed by the £97m Titanic Signature Building in April 2012.
Boyce says: "We have been communicating with UK associations about what there is to do and the levels of professionalism in Belfast."
Getting there and around
Understanding about access to and within Ireland was also an issue for the event planners - Ford of Europe, media and sponsorship manager, Andrew Merryweather said: "We hold many European business meetings (but) we don't think about Ireland because everyone would have to fly."
However, there are now 109 routes from 33 UK airports and Dublin airport's EUR395m second terminal, T2, will have capacity for 15 million passengers per year. The 75,000m2 building will open in November, increasing total capacity to 35 million people per year.
The overall T2 project will also include an improved internal campus roads network at Dublin airport and a metro station. Foulkes says: "I flew to the CCD launch from London's City airport and it could not have been quicker or easier."
Further north, the first phase of a £6m terminal enhancement at George Best Belfast City airport was completed last year with a new departure lounge and conference rooms, with capacity for 50, opening in March. A planning application to extend the airport's runway to allow direct European flights is at the public enquiry stage.
Boyce says: "Within the Republic, there is a perception that the road network is not as good as in Northern Ireland, but that has actually been reversed - we have cut hours off the journey times between the east and west." Rail investments included a new direct service between Limerick and Galway, made possible by the EUR107m redevelopment of the Ennis-Athenry line.
Value and professionalism
While new developments are hoped to attract both corporate and association buyers, Ireland is also determined to beat competitors on value. Boyce says the economic downturn has encouraged suppliers to become flexible when discussing rates. He says: "Ireland is very competitive in terms of value, compared to destinations such as Glasgow, Edinburgh, Manchester or Liverpool. Since the recession, the cost of hotels has fallen and suppliers are much more willing to negotiate."
Foulkes says: "It is not seen as good value, but when people visit they are surprised." The perception of the skill-set in terms of delivering events has also been addressed," he adds.
"The CCD launch was very professionally organised."
Walker adds: "Ireland is much more competitive. We have run some really successful meetings and events there - particularly Dublin - with positive feedback."
DIRECTORY
Tourism Ireland
Contact: David Boyce
Telephone: 020 7518 3357
Email: dboyce@tourismireland.com
Web: www.tourismireland.com
Have you registered with us yet?
Register now to enjoy more articles
and free email bulletins.
Register now
Already registered?
Sign in