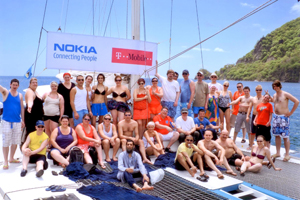 FACTFILE
Client: T-Mobile and Nokia
Event: T-Mobile Winners Programme
Group size: 34
Agency: Yellow Fish
Date: 23-27 April 2010
Venue: Almond Morgan Bay Hotel, St Lucia
Budget: undisclosed
Pre-event planning:
"As an incentive, the trip has to be aspirational," says T-Mobile's head of terminal campaigns management Andy Johnston.
T-Mobile started planning in September 2009 and ran a tender process with three agencies, which were asked to suggest a variety of locations, costing and a rough plan of what activities might be included.
Yellow Fish was chosen after it offered St Lucia, Kenya, Dubai and Miami.
Johnston adds: "Yellow Fish has been successful for five or six years because it has a really solid understanding of the profile of our winners."
A requirement of the trip was that flight times must be less than 13 hours; the flight to St Lucia would take just nine hours.
The agency was briefed to organise a trip for 35 people - in the end 34 were able to make revised dates chosen because of the Icelandic volcano causing an ash cloud that delayed flights.
Objectives:
T-Mobile joined forces with Nokia, which sponsored the telecoms firm's incentive in 2010, to arrange a reward trip for its top employees. Its key performance indicator is that the sponsor must see an increase in its market share.
After Yellow Fish was appointed, it set up an internal Caribbean Quest website and targeted 3,000 staff at T-Mobile retail and contact centres.
Johnston says: "Nokia faced a lot of challenges in Q4 of 2009, but the effectiveness of the incentive comes down to safeguarding staff buy-in."
Yellow Fish has been working closely with T-Mobile for about seven years, adds senior event manager Sue Wright, so knows the profile of its employees.
"We had to choose somewhere that would really inspire T-Mobile staff to sell more and win a place on the trip," she explains. "They are young, fun, party-loving sales people, who love high-octane adventures."
Challenges:
The group was set to fly out to St Lucia from London Gatwick airport on 16 April, but the Icelandic volcano Eyjafjallajokull's eruptions meant that UK airspace shut on 15 April.
Wright says: "My flight was one of the last out of Gatwick that day and we thought the group was coming, but the situation kept changing.
"Logistically it was quite challenging for the team back in the UK because many of the winners were flying from Newcastle or Glasgow down to Gatwick and their domestic flights were cancelled."
The agency responded by booking the winners on trains to the capital, arriving the night of departure. It was hoped the flight to St Lucia would leave the following morning.
Although authorities hoped to open air space again very quickly, the ash cloud persisted, leaving the T-Mobile group unable to fly out to the Caribbean on their chosen date.
After having made it to London, the group now had to return home.
"We didn't know whether to re-book because everything was touch and go," explains Johnston.
"With the size of the group, it was also about picking a date that everyone could make."
Solution:
Following all the upheaval, Yellow Fish was able to arrange for the winners to travel a week later, on 23 April.
"It was quite a relief once the plane took off," says Johnston.
Yellow Fish worked closely with the Almond Morgan Bay Hotel to plan the winners' four-night trip. In addition, St Lucia-based DMC Barefoot Holidays tasked six of its staff to assist with on-site arrangements.
On arrival, T-Mobile winners met for pre-dinner drinks before a welcome dinner on the beach and an evening of revelry at a street party in nearby Gros Islet.
The following day kicked off with a private beachfront breakfast and featured a half-day tour of St Lucia, including a rainforest zip-wire adventure. The rest of the afternoon was free for winners to relax, before heading for a group dinner and night out in Rodney Bay.
Day three of the trip involved a catamaran cruise, while the final full day was a chance for winners to enjoy the facilities at the Almond Morgan Bay Hotel, before a farewell awards dinner.
"I was there a week before the rest of the group because of the volcanic ash cloud, so we were well prepared," adds Wright.
"This meant I could revise the itinery or programme, such as finding a better nightclub for the final night. In the end it was a dream to run."
Client verdict:
Johnston says: "The agency coped remarkably well in the face of the ash cloud. Some people had never travelled before and Yellow Fish were very good at making sure everyone was working together.
"We had a guy from a call centre in Scotland who was absolutely petrified of heights, but the agency even helped get him involved in the activity on zip-wires through the rainforest. The location was fantastic."
Post-event analysis:
Yellow Fish has a set questionnaire for delegates, which asks them about pre-event planning, as well as how they enjoyed the trip.
One questionnaire respondent says: "The trip was a miracle after the volcano problem. I can't believe how they managed to be so organised so quickly within seven days. We all gave up hope but Yellow Fish made it happen."
TIMELINE
September 2009: Start planning
1 November 2009: Sales campaign begins
17 January 2010: Sales campaign finishes
March 2010: Winners of Nokia/T-Mobile Q4 sales incentive announced
16 April 2010: Flights to St Lucia postponed due to Iceland volcanic ash
cloud
23 April 2010: Fly to St Lucia for reward trip



Have you registered with us yet?
Register now to enjoy more articles
and free email bulletins.
Register now
Already registered?
Sign in