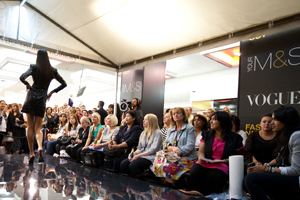 Timebased Events' M&S - Vogue Fashion's Night Out at M&S Oxford Street store event is one of six submissions for Visit London's Business Event of the Year award.
Overview In September 2009, as part of a global Vogue initiative, Timebased Events produced a 'celebration of fashion' evening for M&S in Oxford Street, namely Vogue Fashion's Night Out. The objective was to celebrate M&S as a leader in high street fashion, rather than a 'safe' brand. The event was aimed at making shopping enjoyable again for customers disheartened by economic hard times. The ultimate goal was to generate sales for the M&S store.
Execution Timebased built a fashion tent structure with catwalk, and fashion shows were hosted during the evening alongside five trend presentations, plus an after party. Fifty VIP customers were seated per show, (after winning special tickets via Facebook, Twitter etc) and every customer received a goody bag and Champagne. There were workshops on styling, lingerie master classes hosted by Caryn Franklin and other celebrities, along with 'Little Boots', who performed a DJ set. The public event took inspiration from the glamour of London's Fashion Week, provided an exciting fashion show experience for all who attended. Vogue Fashion's Night Out changed the in-store dynamics, changed shoppers' expectations and brand perception of M&S, which resulted in increased interest levels & sales. M&S reported a 15% uplift in sales on the week of the event.
Impact on London Oxford Street has always been an iconic shopping destination and the events helped to revive sales figures as the event brought the crowds to Oxford Street and the M&S, Marble Arch store.
With stores in other global fashion centres joining in the initiative, it was imperative for London's international fashion reputation that stores such as M&S were seen to sprinkle the Vogue magic on the event for shoppers. This will have supported and strengthened London's fashion credentials, necessary for the growth and economic impact of the fashion industry to London.
Have you registered with us yet?
Register now to enjoy more articles
and free email bulletins.
Register now
Already registered?
Sign in