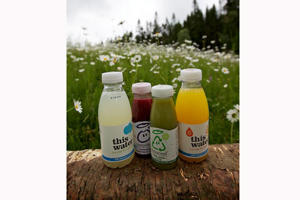 FACTFILE

Client: Innocent
Event: Nature Weekend
Group size: 250
Agency: In-house
Date: 18-20 June 2010
Venue: Center Parcs Longleat
Budget: Undisclosed
Pre-event planning Innocent runs several annual events that bring staff from the brand's UK and European offices together, one of which is themed 'The Nature Weekend' and takes place in June.
This event has evolved as the company has grown in size, starting out as a skiing weekend in Europe when the brand was much smaller, through to trips to beach destinations in Spain, and in recent years becoming a UK-based event. This has been partly due to the economic climate and to fit with the company's commitment to sustainability. "We consider the carbon footprint now and are trying to be more sustainable," says Innocent environment manager Charlie Heavey, who organises The Nature Weekend.
Last year's event was a camping weekend in Henley on the back of a big party. "The budget was restricted due to the economic climate last year. It was great fun but camping is not everyone's cup of tea, so this year we wanted to up the ante a bit and make sure the event was as inclusive and comfortable as possible," says Heavey.
Objectives
The event brings together 250 Innocent staff from the UK headquarters and five European offices, which include Salzburg, Hamburg and Paris. "It's about us as a company getting back to nature," says Heavey.
A key focus for this year's event was assessing the brand strategy and where the company will be in three years' time. The event also needed to provide an opportunity for teambuilding, and enable staff to meet people from other areas of the business in an informal and relaxed environment.
"One of my key objectives is for staff to get to know lots of their colleagues and make sure they have enjoyed the location," says Heavey.
Challenges
The biggest challenge was finding a venue that fitted the tight brief. "The venue needed to be in budget, within two hours of our office, have a light and natural conference space, a sit-down dinner venue and ideally on-site accommodation for the whole group," she explains. "We also like to bring as much nature into the event as possible and, weather permitting, spend lots of time outside with fun activities on offer that are professional and quite challenging."
Another challenge for Heavey was that the England v Algeria World Cup match was being played on the Friday evening during the event. "We couldn't ignore the football and knew we had to incorporate it into the event somehow, but we didn't want people going off to their rooms to watch it," says Heavey.
Solutions
Heavey chose Center Parcs, Longleat, because she felt the venue was on brand, and reflected the "going back to nature" theme. "The venue for the conference on Friday had windows along one entire wall looking out onto the forest so it felt like we were in a natural setting," she says. "Center Parcs was also really flexible with the spaces they were able to give us. For example, we had one of the evening events around the village square, and they also gave us a space down by the lake on the Saturday."
Another plus-point of using Center Parcs is that all the activities are already set up and readily available.
Lodge accommodation and activities groups were randomly allocated so delegates would be sharing with and get the opportunity to meet people they did not know. The business part of the event took place on the Friday, so that people who couldn't stay on for the weekend due to personal commitments would not miss out. The day included some external speaker sessions, with built-in brainstorming and teambuilding activities focused on the future of the brand.
The Friday evening featured a 'Footballers and WAGs'-themed event, with a large screen showing the game for those that wanted to watch it, along with table tennis and table football and 'WAGs' areas, where ladies could get their hair and nails done, followed by dinner and the Innocent in-house band and DJs. "By theming the evening, it meant the game was an integrated part of the evening, rather than disrupting it," says Heavey.
On the Saturday, there was a Waterworld activity for all delegates in the morning, with optional activities including laser pigeon shooting and tree trekking available in the afternoon, and a Caribbean-themed BBQ in the Grand Cafe in the village square in the evening. Further activities were organised for the Sunday morning, with a Jazz Brunch prior to departure.
Client verdict
Heavey says the balance of a great venue, combined with a really good environment, a feeling of being at one with nature, and a really good party, resulted in the event being a huge success.
"The Center Parcs staff were so engaged and dedicated and put so much thought and consideration into everything, it took a huge amount of the pressure off and meant that I really enjoyed the event too," says Heavey.
Post-event analysis
Innocent sends out a Survey Monkey questionnaire following each event to get feedback from delegates. "It was really great feedback - 60 per cent of people said they would definitely return to Center Parcs independently, and 25 per cent rated the event as the best ever, which is great considering it's always going to be compared with being on a beach in Spain," says Heavey. "We also asked how Center Parcs rated against expectations and 79 per cent ticked the 'parktastic' option."
TIMELINE
January 2010: Innocent starts researching venue availability for June event
February 2010: Site inspections take place
March 2010: Center Parcs Longleat confirmed as venue
March-June 2010: Logistics and itinerary confirmed and overseas offices book flights to UK for staff
June 2010: Event takes place
Have you registered with us yet?
Register now to enjoy more articles
and free email bulletins.
Register now
Already registered?
Sign in