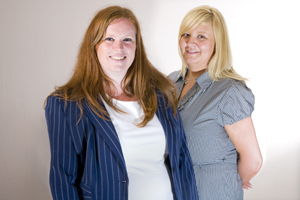 Sheraton Heathrow events manager Kathryn Lawrence
I have been working with Huthwaite International since I started at the Sheraton Heathrow almost three years ago, and they do a lot of business with us so, for me, it is all about making sure Jayne and her delegates are happy.
She had been working with a previous events executive and had built up a relationship so it was a little bit daunting, but Jayne is very bubbly and happy and if there is an event coming up we will speak eight or nine times a week, as well as emailing. Sometimes we'll even discuss what clothes we are going to wear, so we don't clash.
Jayne is very thoughtful and remembers details. She even sent me a get well soon card when I was off work with an injured foot. We were supposed to meet up in September but coincidentally both had foot injuries. It meant I was hobbling around in Ugg boots, while all she could wear was Birkenstocks.
Jayne is a joy to deal with and even if you are having a rotten day she'll cheer you up. She is also very organised, which helps, and her personality shines through.
Jayne tends to get the best room because she's such a good client, but if she is running a bit low on numbers she will always tell us. She is so easy to work with.
Huthwaite International open campaign co-ordinator Jayne McEcram
(Huthwaite International provides sales training to brands including BNP Paribas, RSA, Siemens and IBM).
Kathryn and I developed a strong relationship over the phone before meeting in person and my first impressions were that she was very professional, caring and switched on.
That was a real comfort and our relationship has evolved since then.
When we met in person in March this year it confirmed all the conversations we'd had and it was nice to put a smiley face to her name.
The first event we worked on together was around Christmas time and I was running three courses so it was incredibly busy, with people everywhere. The experience with Kathryn was brilliant though, because she was so professional and organised.
We speak a lot and we'll sometimes have really random conversations, a recent one was about 80s clothes – lace gloves and ski pants.
Kathryn's best quality is that she's very truthful; she says it how it is. We have a good relationship, but if she doesn't have room for us she will tell me.
We are emailing and phoning constantly and if we didn't work so far apart then I think we would have a great time meeting up socially, maybe going shopping.
I live in Doncaster though, which means we don't meet up very much. We also both had foot injuries at the same time last year, which made things more difficult.
I really don't know what I would do if Kathryn ever left the Sheraton Heathrow; there are times when we both catch each other as we are about to fall. One of the main reasons for us using the hotel is Kathryn.
Have you registered with us yet?
Register now to enjoy more articles
and free email bulletins.
Register now
Already registered?
Sign in