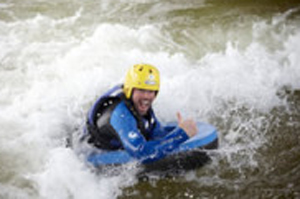 Jane Landstrom has been at Visit Wales for the past four years. She is the tourist board's champion for business tourism. Previously she worked at the Welsh Development Agency encouraging students to consider entrepreneurship as a career choice. She has also been a financial planner at HSBC in London. "My background is sales, but now I'm selling a country rather than financial products," she says.
- What is Visit Wales' strategy to grow C&I business in 2010/11?
Visit Wales is now putting far more emphasis on business tourism because it has been identified as a key business priority. Our previous approach was driven by the need to build a database, so activity focused on attending exhibitions and sending direct mail.
We are moving to an 'electronic customer relationship management' approach. So we are launching a trade website in the autumn that will incorporate three sites (www.traveltradewales.com, www.meetings.visitwales.com, www.cruisewales.net) to better inform and inspire potential visitors.
We are also developing e-communications and an in-house database to make the contact details for potential clients far more accessible. We are encouraging more people to experience Wales through familiarisation trips and B2B events here. We recently ran a 'six months to go' trip in the run-up to the Ryder Cup for golf operators and incentive buyers. We are also embarking on a benchmarking research project to establish the significance of travel and business tourism to Wales. We want to rank travel operators by volume and value of business to Wales, both current and potential.
- What will the new website offer event planners?
It will essentially be our new brochure, because we are no longer producing a costly print product for exhibitions. The benefit is that we can keep it more up to date. The site will be a big improvement for users. It will host searchable itineraries, by theme, duration and region. Our meeting-venues search will also allow users to search by AIM accreditation and accessibility for people with a visual, hearing or mobility impairment. It will also try to support the regional conventional bureaux as much as possible. We want to drive the bulk of enquiries to them directly. It will be launched later in the year under the url www.businessevents.visitwales.com.
- Why are you encouraging venues in Wales to get AIM accreditation?
Our existing meetings grading scheme Business Class - a UK first when it launched in 2001 - needed to be reviewed. Instead of spending resources redeveloping and promoting an improved scheme, we decided to follow Visit Britain's lead and endorse AIM. It will help to create consistency across the UK.
- What are the most exciting developments planned for Wales in the next 18 months?
Cardiff International White Water, a purpose-built white-water rafting centre, has just opened in the city centre. This is great for corporate clients, because it allows delegates to raft without having to travel to the countryside. A series of cookery schools catering for the corporate market has launched, including The Chef's Room near Abergavenny, South Wales. We are also gearing up for the Ryder Cup in October. Corporate hospitality is available if clients are looking to take people out there.
- What hidden gems and up-and-coming areas in Wales would you recommend for repeat delegates?
Slebech Park in Pembrokeshire, southwest Wales, is a quirky country house ideal for corporate retreats. Delegates can enjoy 'Carpet Croquet' by night, and the hilarious team event 'Quack Pack' by day, in which delegates herd ducks using a whistle and a highly intelligent border collie. The Penderyn Whisky Distillery in Brecon, Mid Wales, is also worth a visit. It is the only one in Wales and offers personalised master classes. Or visit Nant Gwrtheyrn in north Wales, where delegates can take a Welsh lesson while enjoying the stunning location and beach views.
DIRECTORY
Visit Wales
Contact: Jane Landstrom, senior product marketing executive and business tourism champion
Tel: 02920 475359
Emailmeetings@visitwales.com
Web: www.meetings.visitwales.com
Have you registered with us yet?
Register now to enjoy more articles
and free email bulletins.
Register now
Already registered?
Sign in