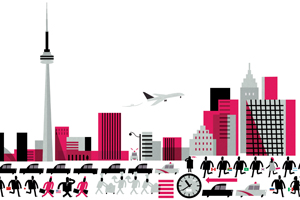 FACTFILE
Organisations G8 & G20
Event: Summits
Group size: Around 700 active delegates; accompanying delegations far larger
Agency: Event organised by specially created Summits Management Office
Date: 25-27 June 2010
Venue: Deerhurst Resort Muskoka/Metro Toronto Convention Centre
Budget: In excess of £725m (C$1,100m)
In June, for the first time, both the G8 and G20 summits took place in the same destination. The leaders of the G8 convened at Deerhurst Resort in Muskoka, Ontario, directly before the delegations of the G20 were hosted in state capital Toronto.
C&IT was allowed behind the scenes to interview those responsible for welcoming the most important people on the planet to an event that became the largest security operation in Canada's history. It proved to be essential: there were several security alerts in the run-up to the event, including a car full of weapons found near one site.
VENUES
JOSEPH KLEIN
General manager, Deerhurst Resort, Muskoka
"In early 2007, we reserved the three weeks around the summit, then formally announced it in June 2008. I couldn't have been more proud. The team was awe-struck. We have 600 employees already trained to deal with international conferences, so there has been no ramped-up approach, more a reminder of expected service levels.
"The challenge has been that decisions constantly change until the very last minute. Security trumps everything. Logistically, it's been like the biggest jigsaw puzzle in the world. A million different pieces. When you are dealing with the leaders of the free world, the dynamics are phenomenal. But as a marketing opportunity, the true success will be in what we do afterwards."
JOHN HOUGHTON
Executive vice-president, Metro Toronto Convention Centre
"The G20 is the holy grail of business events, but the detail is immense. I thought that I understood attention to detail, but I've been shocked.
"The itinerary for the move-in was huge. You are having to plan everything from back-up power supplies to serving staff: all waiters had to have manicures and were instructed not to wear aftershave. We've had to bring in extra radio channels, too.
"The security's been a story in itself. Once we locked down on the 19th, it was akin to arriving at an airport. More stressful than other events? Not really. More complicated? Absolutely."
DESTINATION
DAVID WHITAKER
President and CEO, Toronto Tourism
"We saw it as a chance to show the world our capacity and capability. The planning phase has been well over a year, and it's been a case of dealing with a moving target. Events involving these numbers might usually be handled using a cookie-cutter approach, but because of the politics and cultures involved, things have changed every day.
"The veil of secrecy meant the hotels were really stretched. But we saw ourselves as the perfect destination to host these kinds of summits - 50 per cent of all Torontonians are born outside of Canada, so there's a truly global spirit here."
SECURITY
JULIE MOREL
Communications, Royal Canadian Mounted Police
"We arranged a large integrated security unit, initially just for the G8. When we learned the G20 was also coming, that had to be further expanded.
"There's a combination of participants - the Ontario Provincial Police, the Toronto City Police, the Canadian Armed Forces and so on. It's the biggest security operation that Canada's ever seen. We have been handling accreditation, communications security, traffic control, aviation, emergency response - the whole thing.
"It's been very difficult to juggle the delegation's different demands. In Toronto, the four main hotels were locked down a week before the summit for a full security sweep."
SUSTAINABILITY
NADIA AHMAD
Director, environmental issues and community liaison, Summits Management Office
"We've had an entire team dedicated to the 'greening' of the summits. Hosting in a retreat-style setting is very different to within a major metropolitan centre, but we've had a mirrored approach to both.
"The aim has been to make them zero-waste, and there's been a full ecosystem analysis. More than 6,000 trees have been planted. In Muskoka we've relied heavily on the thoughts of stakeholders in the community.
"We've also tried to leave a strong legacy, doing a lot of work with local schoolchildren. Our youth-engagement strategy gave students the chance to debate the same issues as the leaders themselves."
ORGANISER
SANJEEV CHOWDHURY
Director-general, Summits Management Office
"For the G8, we did an initial study looking at five or six places, evaluating their locations and facilities.
"Our prime minister had the final decision - Muskoka was well-suited as a retreat. It wasn't until 2009 that it was announced the G20 was also coming to the Toronto region. The planning required examining at absolutely every single thing you can think of, even down to where shadows fall in meeting rooms. The whole thing is just vast.
"It's an event with a thousand moving pieces, and you're having to deal with it all in secrecy. Everything is literally scripted minute by minute. In the immediate run-up, I was working nine to five. That's 5am."
CLIENT
SHEILA WATSON
Director of accommodation G8 & G20, Foreign Affairs & International Trade
"In the run-up to the G20 we couldn't divulge anything, so we portrayed ourselves as simple bureaucrats looking for conference space.
"As far as the hotels we were dealing with knew, we were just a part of the Foreign Affairs and International Trade department looking for rooms for a low-key conference. We had nondescript offices that were very innocuous.
After we went public in September there were different challenges. We blocked out four complete hotels and I've had to liaise constantly with the various delegations - they're all looking for the absolute best for their leader, so people jostle."
Have you registered with us yet?
Register now to enjoy more articles
and free email bulletins.
Register now
Already registered?
Sign in