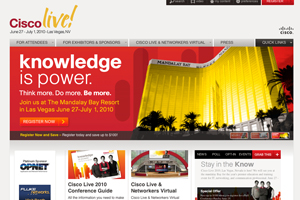 Speaking at C&IT's Corporate Forum today, Cisco project manager European marketing James Bedford revealed that virtual platforms have helped cut costs of internal events, as well as extending the reach of external events.
"In late 2008 our world changed and we started to re-evaluate what we were spending our money on," said Bedford. "We decided that all internal events would be virtual and external would be hybrid.
"As an events manager I was quite concerned about that - would it cannibalise physical attendance?"
Bedford said working out how to charge was also an issue, but Cisco came up with a structure where delegates could register for free to receive content from an event as it was happening, or pay $395 a year to have access to a library of content at any time as a premier registrant. In addition, physical attendees received a year's access for free.
After launching Cisco Live Virtual, figures from the period April 2009 to May 2010 show 15,000 people joined as a free guest delegate, while 952 paid to be a premier registrant.
"We have saved an awful lot of money," said Bedford.
He added that offering free registration as a virtual guest often led to delegates also attending a physical event.
But Bedford warned: "Don't underestimate how much work goes into a virtual event. Think physical event, minus food and beverages."
George P Johnson director of client services Lesley Mason - who works closely with Cisco on its events - added the most critical part of virtual events was having a good internet connection.
Mason added that using video to capture data on delegates visiting physical stands at exhibitions was a good way of ensuring a focus at the right times.
Have you registered with us yet?
Register now to enjoy more articles
and free email bulletins.
Register now
Already registered?
Sign in