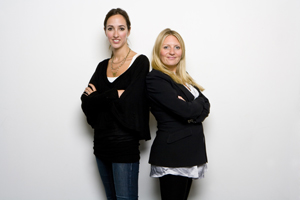 Best Buy Europe events manager Charlotte Groom
(Best Buy Europe covers the brands The Carphone Warehouse, Geek Squad, Best Buy and The Phone House)
Katie and I first worked closely together on the Carphone Warehouse Ball in 2008 when she worked for Sledge. From the outset I saw that she was dedicated to the projects she works on and passionate about what she does.
Early in our relationship, when Katie was at Sledge, she insisted she come in to my office and show me a wide range of the work she had done. She explained that she had a strong conference background. We were looking to step up our conference work at the time and so hearing about her experience was music to my ears.
Although we work on serious business messaging in events, we both manage to keep calm under pressure and retain a sense of humour.
We like to go out for a nice lunch together at High Road House in Chiswick - we both live in West London so it's convenient. We like to look back on our work and have a laugh and enjoy our success.
But we don't tend to socialise outside work that much together because we spend such a lot of time working together - we are on the phone to each other every day.
Our birthdays are just one day apart. We're both Taureans, which means we're quite bullish.
We like to assign a few minutes at the start of our meetings together to catch up on personal stuff. We talk so much about work that it's nice to have a few seconds to talk about a holiday we're going on or my new Miu Miu handbag.
Katie Kenny, head of corporate, RPM
When I first met Charlotte, she came across as being open, friendly and normal - sometimes with clients you take that for granted. We had a lot in common. She could have been a friend of mine from down the pub.
I don't think she has changed at all the entire time I've known her. There's no preamble with Charlotte. She's pretty direct, which saves me and my team so much time. Our working relationship has developed into a friendship. It's good to go into a meeting with her because you know something practical is going to come out of it.
My highlight of the work that I have done for Charlotte was the One Team Conference for managers that we did last year. It was a really big and complex conference to manage but it went so smoothly and it was at that point that I realised that we have arrived - we have cracked it. It was such a highlight.
We're both similar in that we like the nicer things in life. Charlotte is a friend who's not just a client. She's so much like my friends outside work. We're both relaxed around each other and we know the shortcuts to each other's personality.
Have you registered with us yet?
Register now to enjoy more articles
and free email bulletins.
Register now
Already registered?
Sign in