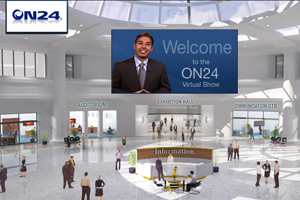 Virtual events firm ON24 is opening new offices in Paris and Hamburg to help meet growing demand in Europe for virtual events.
ON24 already has a UK office - based in west London - which has been open for four years and runs virtual events including training and sales launches. Its head office is in San Francisco.
Deloitte, PricewaterhouseCoopers, IBM and Oracle are among firms for which ON24 runs virtual events.
Services include virtual shows which mimic a trade fair, as well as web casting and vitual briefing centres.
"Global expansion is a key component of our value proposition and growth strategy," said ON24 chief executive Sharan Sharat. "Our goal is to expand globally through a regional focus."

ON24's London-based director of EMEA sales Fergal Burke explained that corporate content could also be repurposed for use in different languages, including English, French, Spanish, German, Chinese and Japanese.

Burke added, "We are aligning our sales organisation in Europe to address market growth. With these additional offices and our continued innovation, ON24 is strengthening its European market leadership and positioning our sales team to take full advantage of market opportunities."
Have you registered with us yet?
Register now to enjoy more articles
and free email bulletins.
Register now
Already registered?
Sign in