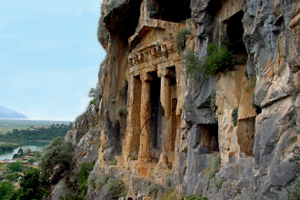 Located on the south-west coast of Turkey in Mugla Province, Dalaman city and region provide the ideal base for incentive groups to explore historical ruins, sandy beaches, thermal springs, or enjoy water-sports and meet in a range of coastal event spaces. An opening by Hilton this year has also put Dalaman in the spotlight.
Getting there A raft of new direct flights is improving accessibility, with Pegasus Airlines, Easyjet, Jet2 and Monarch among those introducing or increasing flights.
Sleep tight The Hilton Dalaman Golf Resort & Spa opened in April and offers a relaxing option for large incentive groups. Set beside the mouth of the Dalaman River, with mountain and sea views, the coastal property offers 410 rooms, a half-mile of private sandy beach, as well as an array of wellness and leisure facilities, including ten pools. The 6,000m2 Elysion Spa offers 18 treatment rooms, four VIP treatment rooms, two Turkish baths, four saunas, a steam room and spa pool.
Other venues nearby include the 57-room Swissotel Gocek Marina & Resort, which reopened in May after a six-month winter break. Located on the Turkish Mediterranean coast in the picturesque fishing village of Gocek, it is a 25-minute drive from the airport. Ideal for groups seeking a peaceful retreat, the hotel overlooks the bay that offers excellent sailing, and boasts its own 280-metre private beach, along with a marina with berths for 400 yachts. It also has two restaurants.
The three-storey Dalaman Park Hotel offers 105 rooms and is located three miles from the airport. The venue offers an outdoor pool, tennis court and the Restaurant Dalaman Park, which serves Turkish dishes.
Meetings menu Iberotel Sarigerme Park is located around nine miles from town and offers three event spaces. These include the Sarigerme 1 room, which can accommodate 120 delegates. It is designed in a traditional Turkish style, with a main building and several villas spread over 35 acres of landscaped gardens, which adjoin the ruins of the ancient city of Pisilis. The 308-room bayside property also offers a freshwater pool, several bars and restaurants and a range of sports facilities. The Hilton Dalaman Golf Resort & Spa offers ten meeting rooms, the largest of which occupies 175m2.
Incentive ideas Incentive attractions in nearby Gocek include sailing, diving, parasailing, windsurfing, white-water rafting, cycling and walking tours. Dalyan's beach, some 30 minutes from the airport, is a nesting ground for rare Caretta turtles. Along with its natural beauty, protected by strict regulations, the small town offers cultural attractions such as the ruins of the ancient city of Caunos, featuring a theatre dating from 200BC, Roman baths, and the temple of Apollo. The thermal springs and mud baths of Ihca and Sultaniye, which are reputed to have many health-giving powers, are also located nearby. Fans of aquatic adventures can go scuba-diving in Fethiye or Marmaris, while Alpine Rafting can take groups on white-water expeditions in the Dalaman river valley. DMC ODS Turkey organises paragliding activities at Oludeniz with views over the Xanthos Valley, a Unesco World Heritage Site, and trips to the secluded Butterfly Valley where delegates can spot almost every species of Mediterranean coastal butterfly and moth.
After dark Hilton Dalaman Resort & Spa's collection of food and beverage options includes the stylish Fashion Lounge and rooftop bar Rouge, where delegates can sip post-dinner cocktails. Nearby Marmaris offers discos, live music and karaoke dance bars, with many venues in the Bar Street area.
VENUE UPDATE: ISTANBUL AND BEYOND
Increased flights, Istanbul's year in the spotlight as a European Capital of Culture 2010, and the strong euro have made Turkey an attractive destination and new developments are being rolled out country-wide. Istanbul is opening a host of new attractions, hotels and venues. These include the Istanbul Kongre Merkezi, Istanbul's largest congress centre, which opened in September in Harbiye. Other venues opening this year include the Ayazaga Congress & Cultural Centre and the Pendik Exhibition Centre.
New hotel openings include the Diamond of Istanbul hotel, Savanora Hotel, Silence Istanbul Hotel, Donizetti Palas and the Ortakoy Townhouse.
The city's cultural offer is being boosted by the opening of the Museum Of Innocence and Princes' Islands Museum, which opens this summer, following the opening of the Panorama Museum.
The upgrades to guestrooms and suites, meeting spaces and public areas saw the Hyatt Regency Istanbul rebrand as the Grand Hyatt Istanbul in December. It offers 360 rooms, 1,507m2 of event space, Italian restaurant Spazio and the Gaia Fitness Centre & Spa.
Rezidor is set to open the Radisson Blu Hotel, Istanbul Asia in the winter of 2011. The 194-room, new-build property will be located in the Atasehir district.
Infrastructural improvements include the upgrading of two road bridges on the Bosphorus and a new rail tunnel in Istanbul, plus a continuation of a high-speed rail project.
On Turkey's western coast, the Radisson Blu Resort & Spa, Cesme opened last summer and offers 312 rooms with views over the Aegean or the landscaped gardens. Ideal for incentive groups, delegates can relax in the hotel's 3,500m2 Dulcis Thermal Spa & Hammam, or the three pools. The 1,039m2 of event space includes the 600m2 Cesme ballroom, the biggest of the rooms.
Hilton Worldwide plans to double the number of its hotels across Turkey by the end of 2011, and will open properties in Sanliurfa, Konya, Mardin, Istanbul Bostanci, Diyarbakir, Manisa, Bursa, Golden Horn, Corlu and Corum. The Hilton Garden Inn Kutahya opened in March in the western city's centre, within walking distance of shopping areas and the business district. It offers 121 rooms, the Sumac Grill restaurant and bar, a full fitness centre and a business centre. Event space includes five meeting rooms with capacity for 245, all with natural daylight and air-conditioning.
The company also plans to open properties in Bursa in the north-west of the country in 2011. The 170-room Hilton Bursa Convention Centre & Spa and 106-room Hampton by Hilton Bursa will be located next to each other, near the main highway connecting Bursa and Istanbul, a 40-minute drive from the slopes of Mount Uludag Ski Resort, Turkey's main winter-sports destination.
Further south, the palatial Mardan Palace is set to further expand its luxurious offer with a Jack Nicklaus 18-hole golf course in 2011. The property opened in Antalya last year and offers 546 rooms, including two Royal Suites with private pools. Its events offer includes a convention centre with two ballrooms, three foyers and 17 meeting rooms. Incentive facilities include a pool, aquariums, a swimming reef, an amphitheatre for 900 and a 7,500m2 spa.
Accor added to its existing four-strong portfolio in Turkey - Novotel Istanbul, Novotel Trabzon, Ibis Istanbul, Ibis Eskisehir - earlier this year with the opening of Novotel and Ibis properties in Gaziantep in southern Turkey and in the central city of Kayseri, including the 92-room Novotel Gaziantep, which offers a pool and fitness room and meeting spaces for 650 delegates. Accor also plans to open a new Ibis in Bursa in 2011.
DIRECTORY
Turkish Culture and Tourism Office
Contact: Irfan Onal
Tel: 020 7839 7778
email: info@gototurkey.co.uk
Web: www.gototurkey.co.uk
Have you registered with us yet?
Register now to enjoy more articles
and free email bulletins.
Register now
Already registered?
Sign in