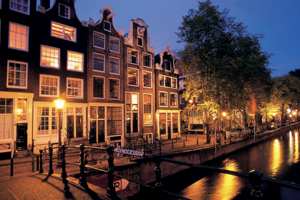 DAY 1
8am: Enjoy breakfast at Amsterdam's decadent Dylan Hotel. Situated on the Kiezersgracht canal, this boutique property is one of the city's most alluring.
10am: Get a bird's eye view of Amsterdam and scope the city from the skies. Holland Events Company is among the many firms to offer helicopter tours for groups of up to ten.
12pm: Once grounded, head to Seasons Restaurant at Herenstraat 16 for a light lunch. An informal but gastronomic restaurant, it boasts a varied menu including smoked duck salad, Thai seafood gumbo and venison stroganoff.
1pm: Limber up for a team-building treasure hunt across the city. Groups are split into teams and spread to three of the city's most alluring areas - the Red Light District, Jordaan & Central Canal Ring and the Old Harbour Area. Each team is issued a range of challenging assignments allowing them to accumulate points. The five-hour event includes everything from navigating a waterbike through the canals to clandestine visits to some of the more salacious museums in the red light district.
6pm: Take a pre-dinner aperitif at Cafe Chris Anno 1624, one of Amsterdam's oldest watering holes. The interior is reminiscent of a bygone age.
8pm: With many kitchens in Amsterdam closing by 10pm, have dinner at Lucius, which stays open late into the night. The long, narrow and bustling seafood bistro, replete with dishes served on silver platters, can host groups of up to 30. Specialities include blue shark, smoked eel, and herring served with old jenever (gin).
DAY 2
9am: Head to the Beurs van Berlage, a former stock exchange with alluring architecture, for a morning meeting. Among the highlights is the 600m2 main hall with an iron and glass roof.
12am: Then it's on to Mac Bike at Centraal Station, one of the city's top bike shops and capable of equipping groups of up to 15 with cycles for a city tour.
1pm: Grab an informal lunch at Burgermeester, home to some of Amsterdam's most finely crafted fast food.
2pm: Wash lunch down with some liquid refreshment. The Heineken Experience, situated in the former brewery at Stadhouderskade, is a lager theme park.
4pm: See some of Amsterdam's finest rocks at Gasson Diamonds. For exclusive groups, DMC ITB Holland offers a one-hour factory tour. Each delegate receives a glass of Champagne, spiked with a small stone. While most will be zirconia, one guest will find a real rock.
7pm: Have a pre-dinner drink at the decadent Mercurius at Prins Hendrikkade 20/21. This elegant bar is one of the city's hottest nightspots.
8pm: Dine at d'Vijff Vlieghen, a restaurant comprising nine rooms in five interconnected buildings. Serving a range of new Dutch cuisine, the venue also offers meeting facilities that seat up to 50. Afterwards, carry on the night at Hotel Arena's Tonight nightclub.
Have you registered with us yet?
Register now to enjoy more articles
and free email bulletins.
Register now
Already registered?
Sign in