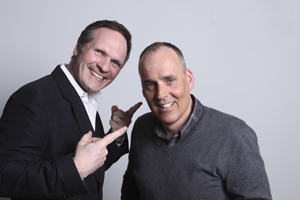 John Worthington, head of events, O2
When I first met Nic, we already had three or four incumbent agencies, so Sledge were the new boys. At that time O2 was a really new brand. We had just come out of BT Cellnet - we were only about a year old so it was a huge pitch for us.
I thought Nic was quite ballsy and presented a fresh approach. He's passionate about his work and always delivers.
Everyone he works with has a huge amount of respect for him and he carries it in a nice way. How many chief executives do you see working out the back of a van? He doesn't do 'stress' and that's one reason why we work well.
After the launch of the O2, when it opened with Bon Jovi, we sat down and had a few beers with Jon (Bon Jovi) after the gig in his little room. He was just so normal. It was a good night and that was the point where we could relax a bit after 18 months. It wasn't just the fact we actually did that event. We were actually building the place at the same time.
Relationships always work better with honesty and we have always had that. It's about being there in the good times and the bad. After seven years, to keep things fresh, keep differentiating, keep the value, keep the relationships, it's like a marriage. You have got to work at it.
There's no reason why Nic and I won't always be friends.
Nic Cooper, chief executive, Sledge
The first time I met John was in about 2003 during a pitch. There were about four people from O2 at the pitch. I never thought it would be easy. John stood out because he was so direct and open and it was obvious that he had an in-depth understanding of the live event space. You could tell that from the questions he was asking. I had a call from John telling me we had been successful and I was obviously over the moon.
John's very straight and he hasn't changed throughout the time I have known him. He's not afraid of saying exactly what's on his mind.
The first major work we did together came on the back of the England rugby team World Cup victory in 2003. Within a matter of weeks we organised what was probably the biggest victory parade that London had seen since the war. Superstition probably played a part in it because I think O2 - the main sponsor of England rugby - and the RFU probably didn't want to commit to it until we knew that England had got into the finals.
When our teams are socialising, we sometimes play poker and I always lose but last time I won. That's the true test of a relationship. I knew I had a winning hand and I was thinking I really like John and he's a client. But no. I must win.
One of the main reasons we get on so well is our similar hands-on approach to events. We wouldn't ask our people to do something we wouldn't do ourselves. We both know what is realistic to achieve. And also putting in the hard graft - it's leading by example. We've both been in the back of trucks loading them up.
You have to laugh on the job. A sense of humour and a sense of the ridiculous sometimes are essential. O2 is always pushing the envelope in terms of experiential activity. So quite often we are doing things that people haven't tried before. We trust each other and enjoy it as well.
Have you registered with us yet?
Register now to enjoy more articles
and free email bulletins.
Register now
Already registered?
Sign in