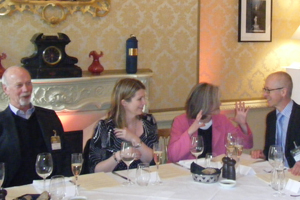 Ford, Imagination and Oxford International were among the guests attending the event, held at London's St Barnabas event space in Soho, where they were asked to discuss their impressions of Ireland.
MIA chief executive Jane Evans said: "There is a lot of activity and improving of standards but my knowledge is low."
Despite the joint marketing campaign, Northern Ireland and Eire continue to be perceived as two separate destinations, buyers said.
Imagination director Richard Foulkes said: "If I am thinking business I think of the north, but if I am thinking of social [events] I think of the south."
Oxford International managing director John Walker agreed: "The south has the fun perception. But the north has positioned itself as being for serious business."
ICCA UK and Ireland chair and Excel London director of conferences and events James Rees said: "Based on the number of people I speak to regarding the north and negative connotations from the 'troubles', it might explain why Northern Ireland is not seen as a place for fun."
Access
Perceptions about access to and within Ireland are also an issue, buyers said.
Ford of Europe media and sponsorship manager Andrew Merryweather said: "In the current economic climate we are looking to squeeze budgets on everything. We do lots of European business meetings...[but] we don't think about Ireland because everyone would have to fly. For incentives it is a different ballgame - if it fitted the event then we would [consider it]."
Walker said: "Access is still a problem. We do a lot of pan-European meetings and against European competitors it is much easier to get to those destinations than Dublin."
Foulkes added: "Ryanair connectivity is excellent but I wouldn't ever put anyone on a Ryanair flight. It is the destination's biggest asset and biggest weakness."
Value
However, the destination can also offer great value for money, buyers heard.
MCI Dublin managing director Patrick Delaney told buyers of one IT client who moved a large event from London to Killarney "for value".
He said: "Yes, there were challenges, but the bottom line was they wanted to immerse delegates in a cocoon of the company brand which could be delivered in a smaller environment."
Have you registered with us yet?
Register now to enjoy more articles
and free email bulletins.
Register now
Already registered?
Sign in