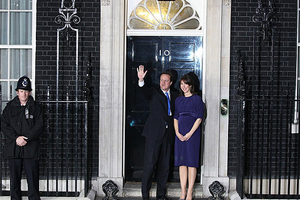 The parties have now formed a coalition government, with David Cameron as prime minister and Nick Clegg as deputy prime minister.
The Conservative Party made a commitment in its manifesto to seeing sport, the arts and creative industries flourish and promoting Britain as a tourist destination.
Meanwhile, the Liberal Democrat manifesto proposed a Creative Enterprise Fund to help establish more businesses in the sector.
Industry body the Business Visits & Events Partnership (BVEP) is now planning to lobby ministers, shadow ministers and MPs on key issues affecting business tourism.
It will launch a manifesto calling for support for the events sector in mid-June, said BVEP chairman Michael Hirst.
Hirst added he was "optimistic" following Cameron's move to Downing Street. Lib Dem leader Nick Clegg will be deputy prime minister, with Vince Cable leading on business and banking in the new coalition cabinet.
"The manifestos talk very strongly about supporting sport and culture and tourism and events fall within that portfolio," explained Hirst. "The parties have talked about revitalising the creative industries and I hope events will play their full part in that."
TRO managing director Keith O'Loughlin added the newly-formed government would provide stability and clarity in the short term.
"In terms of broad policy there seems to be support for our industry and that is good," he said.
Scotland-based event management firm Maximillion's managing director John Strachan told C&IT the country's events sector was still entrenched in recession.
He added that optimism in the financial sector would help with business.
"From an industry perspective, the Conservative and Liberal Democrat coalition probably had a solution that could give commerce more confidence," explained Strachan. "Our business was pulling around 30 to 35 per cent of yearly revenues from financial services and whatever impacts on that will impact on us."
Fresh business development director Patrick Howells agreed that financial stability was key.
"We now have an historic coalition government which should hopefully reassure the financial markets," he said. "In turn, this should give confidence to the wider business community to engage with their staff and customers more, which we only see as a good thing."
Meanwhile, Venues Event Management chief executive Anita Lowe said: "Looking at what we know so far about the coalition policies, there could be both positive and negative effects to the events sector."

She added that accelerated spending cuts would affect public sector organisations, and that agencies with those types of clients would see a reduction or a freeze on events spending.

"On a more positive note, the new Government has put a strong focus on promoting financial stability and supporting business growth," said Lowe. "This should see more confidence, certainly in the private sector, in spending on training, incentives and conferences."
Have you registered with us yet?
Register now to enjoy more articles
and free email bulletins.
Register now
Already registered?
Sign in