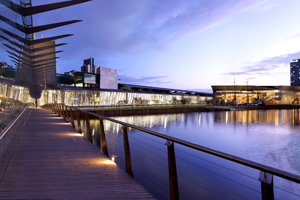 Sydney
Unsurprisingly, Australia's most popular destination for C&I groups continues to win big business. The city has been selected by Amway to host 15,000 of its direct sellers for an incentive in 2011. It is also seeing a raft of developments, such as the opening of Australia's first Chi spa at the 563-room Shangri-La Sydney in December, offering a range of treatments in its six rooms.
A new events venue, Sergeants Mess, opened on the water's edge in Sydney's Chowder Bay last summer. Formerly a deserted army barracks, the venue underwent a multi-million dollar renovation and its main dining room offers stunning views and 350m2 of space that can host a gala dinner for 250. Meanwhile, Sydney Town Hall, a landmark sandstone building in the heart of the city, reopened in March this year after an 18-month renovation and can now cater for events for up to 2,000 delegates.
On the incentive side, the famous Sydney Seafood School at the Sydney Fish Markets is ideal for corporate groups and has undergone a major renovation to celebrate its 20th birthday. Another favourite, Bridge Climb Sydney, has launched an Express Climb experience, ideal for time-pressed delegates, which enables groups to reach the highest point of the Harbour Bridge in just over two hours. And outside the city, Emirates opened the Wolgan Valley Resort & Spa in October, set in 4,000 acres and offering 40 suites and outdoor activities.
Melbourne
Snapping at Sydney's heels to win big business, Melbourne has been given a huge boost by the opening of the Melbourne Convention Centre in June 2009. Major events hosted recently include the Parliament of World Religions in December and the World Congress of Internal Medicine in March, both of which attracted more than 4,000 delegates.
The six-star green venue has a 5,000-seat plenary hall divisible into three smaller spaces for 2,500, 1,500 and 1,000, as well as 32 meeting rooms, a ballroom and foyer.
On the hotel side, The Cullen opened in November. Named after and featuring artworks by Australian artist Adam Cullen, the 113-room property was the first in a series of art hotels. Sister property The Olsen opened in March and offers 229 rooms, while The Blackman is set to open in St Kilda later this year.
Larger groups can try the Crown Metropol, which opened in April in the Crown Entertainment Complex. It offers 658 rooms, a sky bar on the 28th floor, an urban day spa and retreat, Isika, as well as Australia's first Gordon Ramsay restaurant, Maze. The new hotel comes shortly after the extension to the Crown Conference Centre, which can now cater for 800 delegates.
Perth
Over on the west coast, Perth is heavily focused on pushing its green credentials. The Perth Convention Bureau (PCB) became the first bureau in Australia to receive Green Globe certification last year. The PCB also revealed it is on track to achieve its £49m sales target for the 2009/10 financial year. At the end of February, it had secured a record amount of business worth nearly £44m in direct delegate expenditure.
Hyatt Regency Perth has commenced an extensive refurbishment programme with each of the hotel's 367 rooms being upgraded. Environmental initiatives will also be incorporated, including energy-efficient lighting and water-saving devices.
Two other iconic city hotels have also undergone extensive refurbishment recently. The Metro Hotel Perth completed a £2.1m renovation of its 94 rooms and opened a new restaurant, Chez Metro, serving modern French and European cuisine. Meanwhile, the historic Tradewinds hotel in Fremantle is refurbishing its 83 self-contained apartment hotel rooms and work is expected to be complete by mid-2010.
A new outdoor event space has also opened in the heart of Northbridge. Framed by a new multi-purpose Community Building with gallery space and a meeting room, the Northbridge Piazza offers 1,800m2 of outdoor open space and capacity for up to 1,800 people.
Darwin
The most significant C&I development in the Northern Territory's state capital Darwin is still the Darwin Convention Centre, which opened its doors in June 2008.
Part of the Darwin Waterfront Precinct, the venue features an auditorium for 1,500, an array of flexible meeting rooms and 4,000m2 of exhibition space.
New developments on the hotel front include the Medina Grand Darwin Waterfront and the Vibe Hotel Darwin Waterfront, which opened in March 2009, bringing 241 new rooms to the city. The Medina Grand offers 121 studios and one-bedroom apartments, while the Vibe Hotel offers 120 rooms and four meeting rooms with capacity for up to 100 delegates theatre-style. It also has an on-site eatery, Curve cafe+bar, offering local dishes such as kangaroo fillet and mud-crab risotto.
On the incentive side, Novotel Darwin Atrium last year began a crocodile-viewing experience for intrepid delegates. The Cage of Death package sees delegates suspended in a transparent cage on a monorail above the crocodile enclosures at the nearby Crocosaurus Cove attraction, before being lowered into one of the pens.
Brisbane
Back on the east coast, Brisbane has also seen an increase in C&I business, attracting a number of large association events, including the World Congress on Conservation Agriculture 2011 for 500 delegates, the International Congress of Voice Teachers 2013 for 400 delegates and the International Conference on Diet Activity & Methods 2015, which will attract 500 delegates. All three events are booked into the Brisbane Convention & Exhibition Centre's new meetings venue, which is set to open in 2011 with capacity for 600 delegates. Existing facilities include 21 meeting spaces and four exhibition halls.
The city's first airport hotel, Novotel Brisbane Airport, opened in December offering 157 rooms and six meeting spaces ranging in capacity from 12 to 120 delegates theatre-style. Meanwhile, the airport itself is undergoing a £1.45bn infrastructural expansion to be completed by 2015.
Just one hour north of Brisbane is Australia Zoo, made famous by the late Steve Irwin, which is ideal for a day trip for conference groups. The zoo has started a major expansion that will add an African safari park and a 350-room luxury hotel.
BUYER VERDICTS: Would you pitch Australia?
Three UK buyers from Tourism Australia's Dreamtime trip give their views on the destination.
- Kim Hickson, senior project manager, BI
"For UK groups going to Australia, Sydney would be top of the list and I'd highly recommend it. We would pitch it as a high-end incentive as it is the type of event that involves clients with the time and money for a major trip to Australia. It certainly has some great selling points, it's just a case of finding the right client, but I don't think we'll be pitching it this year as the budgets are not quite there yet. Incentive trips are only just starting to come back and I think it will be another year before we see budgets for big trips."
- Fiona Whitehead, director, Creative Travel & Event Management
"We're very pro-Australia within our office and we have organised four or five successful incentive trips there. The obvious destination is Sydney, but we have also taken groups to Gold Coast and Cairns. I believe that Perth has a lot of potential and I'd like to do a programme there. I'm also looking at the possibility of pitching it as a twin-destination trip along with Japan for a client that is planning an incentive for 2011. Most of the clients that we have taken to Australia in the past have been from the brewery and wine industries, but at the moment, Australia is seen as a bit too far to travel in the current economic climate."
- Lisa Pennington, managing director, Definitive Events
"I'd definitely pitch Australia as an incentive destination. It would depend on the client, what they want to achieve and who the delegates are, as to which areas you would visit. I think Australia would work best as a dual programme, so Sydney, which offers city and beach, along with some kind of Outback experience. The great thing is that Australia is so diverse, it really gives you the opportunity to tailor-make a fantastic once-in-a-lifetime programme."
Have you registered with us yet?
Register now to enjoy more articles
and free email bulletins.
Register now
Already registered?
Sign in