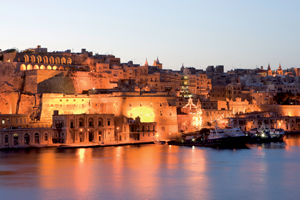 Hotel Phoenicia: Hotel Phoenicia invested £2.6m upgrading its facilities last year, with improvements to its reception and lobby areas, the Palm Court Lounge, the Phoenix restaurant and the bedrooms and suites on the third and fourth floors. The property offers 136 rooms and a range of restaurants. Event space includes six meeting rooms, five of which have natural daylight, with capacity for 300 delegates. Event planners can also take advantage of Malta's mild climate and host events in the hotel's 7.5-acre garden.
UK C&I focus: The UK C&I market is a key revenue stream for Malta, accounting for almost a fifth (17.5%) of all C&I arrivals in 2009. Unsurprisingly in the current economic climate, UK visitor figures to Malta dropped slightly in 2009 compared with previous years. However, Malta Tourism Authority (MTA) is keen to grow the market. "We are working hard to promote Malta to UK buyers this year, attending C&I events and increasing our sales calls to buyers. Our efforts have doubled since the start of the economic downturn," says MTA director UK and Ireland, Alex Incorvaja.
Quality guarantee: To reassure buyers that they can expect high standards of service, consistency and professionalism from ground handlers, the tourism authority awards DMCs that comply with its stringent rules a 'Quality Seal'. Criteria includes being financially sound, acknowledging requests within 24 hours and having at least one member of staff available 24 hours a day during events. Quality-assured DMCs are listed on the MTA's website and include Alpine Sterling Travel and On Site Malta.
Boutique and chic: The island expands its boutique hotel offering next month when The George opens in St Julians, with 112 rooms featuring a host of mod cons, meeting space for up to 140, and a Piazza bar and rooftop sky lounge (www.thegeorgemalta.com). Other boutique options include the 17-room Xara Palace Relais & Chateaux, the 44-room Hotel Juliani and the 93-room Grand Hotel Gozo. For small groups where privacy is vital, the remote Hotel Ta' Cenc is on Calypso Island's highest point, overlooking cliffs and views across to the islands of Malta and Comino. It offers 83 rooms, each with a terrace or private garden.
Rural idylls: The island also offers a range of revamped rustic venues, for example Bella Vista Farmhouses' collection of luxury farmhouses perched on a cliff edge in the village of Xaghra on Gozo. The properties offer views of Marsalforn valley, the ancient Citadel in Victoria and the rolling hills that characterise the Gozitan landscape. Each farmhouse offers a freshwater pool with mosaic tiles, a barbecue area, and en suite Jacuzzi bathtubs.
Better by design: World-renowned architect Renzo Piano is set to redesign the island's capital, Valletta, by reconstructing historic sites that were destroyed during the Second World War bombings. The regeneration project includes rebuilding the entrance to the city, a new outdoor performance venue at the opera site and a new parliament building. The project will see investment of up to £69m and is set to be completed by 2014, when Malta will celebrate 50 years of independence.
ABTA's choice: ABTA has chosen the island as the host destination for the first time for its 2010 Travel Convention, which will take place on 18-20 October 2010. Mark Tanzer, ABTA's chief executive, said: "Malta is a vibrant and developing destination for UK travellers and the convention will give our members a great opportunity to acquaint - or re-acquaint - themselves with all that it has to offer." The event will take place at the Hilton Malta Conference Centre, which is attached to the Hilton Malta Hotel at Portomaso St Julians.
Pharma market: Malta has a wealth of four-star properties that are ideal for the pharmaceutical market, and the MTA held a seminar for the local trade to provide an update on the new regulations within the industry. Options include four-star conference venue the Dolmen Hotel, which is actively targeting the sector.
All ship shape: Corporate delegates can enjoy a taste of history at the Black Pearl restaurant. Built in Sweden in 1909, the 150ft venue is one of the last surviving wooden trading schooners and her history includes a case of weevil worm and sinking 70 feet below the sea at Malta's Marsamxett Harbour, before being restored to star in the film Popeye. The ship houses a restaurant and bar serving traditional Maltese dishes, along with Mediterranean cuisine and a selection of fine wines. It has capacity for 220 delegates for a standing reception.
Budget cuts: Malta can offer cost-saving options for business event planners. Overseas companies established in an EU member state outside Malta can now apply for VAT refunds on some business expenses. The application is open to taxpayers who can fulfil a set of criteria, which can be obtained through the guidelines available on www.vat.gov.mt.
DIRECTORY
Malta Tourism Authority
Contact: Marie Anne Barthet Brown
Tel: +44 20 8877 6993
Email: marieanne.barthetbrown@visitmalta.com
Web: www.visitmalta.com
BUYER VERDICTS: How does Malta rate as a C&I location?
- Lisa Winterton, director, Distinctly Different Days
The Palazzo Parisio is a privately owned venue that may be new to many people. It is an amazing environment for gala dinners and the gilded, mirrored ballroom is one of the most stunning I have seen - it can seat 110. For smaller groups of up to 400, the manicured gardens can be used.
- Louise Harding, director and owner, Event Corner
Having recently travelled to Malta, I have to say that I was very impressed. It offers sunshine, a great range of activities and wonderful venues both on and off the mainland. These include the boutique Hotel Juliani and the fabulous Kempinski hotel, which is situated on the more secluded island of Gozo.
- Mervin Moonien, Bank of New York Mellon travel consultant (EMEA)
The Hilton Malta has amazing views, a large event space and good AV. The Mediterranean Conference Centre also has a large, extraordinary space that you wouldn't expect. The people in Malta are very friendly, there are many historical sites, and it's inspiring for outdoor events.
- Chris Clarke, director of events, P&MM Events & Communications
Malta offers great outdoor venues in historic settings, with superb backdrops and excellent dining, plus good weather most of the year. It also offers ease of access, a very vibrant nightlife and great outdoor team-building options, which are eco-friendly and natural in their offerings.
Have you registered with us yet?
Register now to enjoy more articles
and free email bulletins.
Register now
Already registered?
Sign in