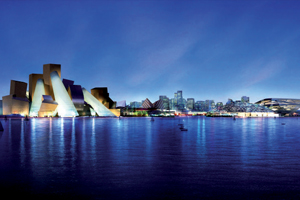 Once seen as Dubai's less-developed cousin, the UAE capital is becoming a major player on the international C&I stage. High-profile events such as last year's inaugural Abu Dhabi F1 Grand Prix, fast growing room stock and a C&I-focused tourism authority are helping secure its reputation as a major destination for events and incentives.
Despite extensive plans for new attractions in the emirate, Abu Dhabi Tourism Authority (ADTA) business tourism manager Gillian Taylor maintains it should be seen as a high-end rather than mass-market option. "We want to be seen as an elite destination," she says. "The culture capital of the Middle East".
Abu Dhabi's cultural advances are hard to miss. A dedicated permanent exhibit at the Emirates Palace showcases the developments on Saadiyat Island, with models of the striking new buildings that will house the new cultural district's upcoming Guggenheim Abu Dhabi, Louvre Abu Dhabi, and Maritime museums, as well as a performing arts complex.
The hotel sector is also growing swiftly, with plans to grow the current 17,500-room offer - which includes landmark favourites such as the Emirates Palace - to 24,000 by 2012, and boost visitor figures from 1.54 million to 2.3 million. Looking ahead, that figure is dwarfed by the emirate's plans for 74,000 hotel rooms by 2030, as part of its 2030 Policy Vision, which has also set a target of 7.9 million visitors.
Forthcoming openings include a 281-room Rocco Forte property, which is set to open in June, and the 850-room Millenium Al Wahda Hotel. However, Taylor is keen to stress that high-end infrastructure already exists. "We do not want everyone to wait until 2030 to bring their C&I business to Abu Dhabi, as we have a wealth of opportunities represented by state-of-the-art facilities and hotels that are currently operational."
These include a range of five-star properties such as the Shangri-La Hotel, Qaryat Al Beri and incentive options such as Yellow Boat speedboat tours of the island.
In line with Abu Dhabi Government's 2030 Economic Vision, ADTA is spearheading the three-year Advantage Abu Dhabi initiative, which aims to attract business tourism events. Event planners can apply to the initiative for start-up financial grants, governmental endorsements, leadership patronage, and marketing support and cost rebates.
"Our aim is to become the Middle East's leading meeting and cultural capital," says Taylor. "As the UK remains in second place in our international hotel guest league, you can easily gauge its importance to us. Some 19,900 UK guests stayed in the emirate's hotels in the first two months of this year - a 39% rise on 2009."
Despite these advances, Dubai retained its position as the most popular C&I destination in the region last year, with Abu Dhabi in third place, according to GIBTM 2010's Middle East Meetings Industry Research Report. However, those planners surveyed in the report reckon that Abu Dhabi will move up to second place in 2010, with more than a third of them saying that event budgets for the region have increased this year. It looks as if there could be no better time for the emirate to further target the C&I market.
Have you registered with us yet?
Register now to enjoy more articles
and free email bulletins.
Register now
Already registered?
Sign in