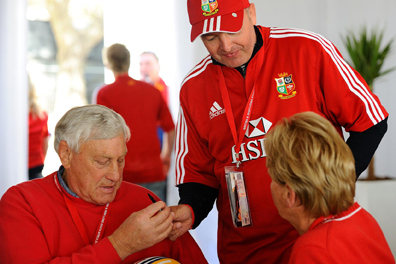 Client: Specific Media
Event: Corporate hospitality
Group size: Ten
Agency: Sportsworld
Date: 25-28 June 2009
Venue: City Lodge Courtyard Rosebank hotel in Johannesburg; and the
Loftus Versfeld Stadium in Pretoria
Budget: Undisclosed
Brief: Online marketing specialist Specific Media wanted an overseas event enabling it to spend quality time with ten of its top advertising clients during the British Lions' tour to South Africa. It asked Sportsworld, one of the Lions Tour's official operators, to deliver a memorable and engaging experience, to help secure future business and strengthen client relationships.
Challenges: The group was due to fly to South Africa on the 25 June, but the day before, the agency was told that one delegate would not be able to fly until 26 June, meaning they would arrive on the next morning - the day of the match.
Solution: The agency's client co-ordinator spoke to the flights team immediately to find out the implications and possibilities of changing the flight for one guest by one day, managing to respond to the host in less than two hours. The flight was changed for a fee of £150, and the agency arranged for a private car to collect the guest from OR Tambo Airport and take them direct to the four-star City Lodge Courtyard Rosebank hotel in Johannesburg to join the rest of the group.
Execution: The delegates travelled from London Heathrow via Frankfurt with Lufthansa in business class and were met by Sportsworld at OR Tambo Airport at 8.50am the next day. After transferring to the hotel they enjoyed time at leisure, playing golf at the Wanderers Golf Course or taking a township tour, before making their own arrangements to dine at restaurants such as the Wombles Steak House. On day three, delegates were taken to the Loftus Versfeld Stadium in Pretoria to watch the Lions take on the Springboks and enjoy Sportsworld Prestige Hospitality, which included coffee on arrival followed by a Champagne and canape reception, three-course lunch, open bar and post-match hot snacks. After the match, delegates returned to the hotel and dined at Moya Melrose Arch. They were transferred to the airport the next day for flights home.
Verdict: Specific Media vice-president Ian Dowds says the event was "one of the best client-entertainment trips I've been involved with", praising the agency's "first class" organisation.
Sportsworld chief executive Chad Lion-Cachet adds: "The Lions Tour was a fantastic opportunity for Specific Media to showcase itself and interact with its delegates. From our perspective, we were very happy that our clients had a positive and successful tour at such a major sporting event. We are now looking forward to the Fifa World Cup taking place in South Africa next June, where we will be taking many clients."
For more information on South Africa, click through to the C&IT Destination Guide: South Africa
comments powered by

Disqus