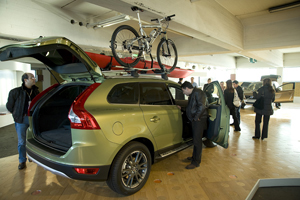 CLIENT Volvo

EVENT Volvo Car Corporation (VCC) wanted to unveil the new XC60 to its global dealerships through an interactive programme for 5,600 dealers from 32 countries, run as a series of two-day events over a nine-week period.

DESTINATION DECISION As the car is targeted at urban dwellers, the brief stipulated a city location. It was decided that the event would be held in Volvo's hometown, Gothenburg, but as the company had held global dealer events there in the past it was important to make the XC60 launch different and inspiring. When searching for suitable sites, agency Line Up found a disused customs warehouse just a few minutes from the city centre.

STRATEGIC HURDLES "The biggest challenge this year was budget," says VCC global manager, special events, Frank Schultz. "We had to reduce spend but didn't want it to impact on the dealer experience or feel of the event." Using the warehouse, which is owned by a property developer and not an event venue, enabled Line Up to reduce costs and focus on creating an engaging and interactive programme with lots of driving activities. Overall, delegates gave the XC60 an average 93 per cent approval rating. The creativity, content and quality of the event successfully engaged all groups, scoring an 82 per cent average.
Have you registered with us yet?
Register now to enjoy more articles
and free email bulletins.
Register now
Already registered?
Sign in
comments powered by

Disqus