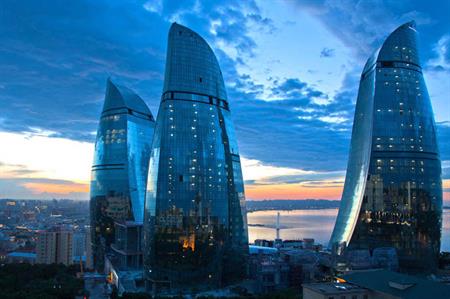 Where to stay
Fairmont Baku, Flame Towers
Located inside one of the three 244m Flame Towers, Azerbaijan's most stand out and iconic structure is the Fairmont Baku hotel, which opened in the capital city in 2013.
The hotel includes 318 rooms, each with views overlooking the city, Baku's old Walled City and the Caspian Sea. Guests can choose one and two-bedroom suites depending on which view they prefer to face whilst the 375sqm Royal Two Bedroom Suite is the property's most luxurious room, sitting across the 27th and 28th floor of the tower.
The hotel's meeting facilities comprise 2,500sqm of event space, including a Grand Ballroom that can be divided into two or three sections, a Junior Ballroom, two boardrooms and seven additional meeting rooms, each with modern AV technology and free wifi.
Groups can dine in one of four internationally themed restaurants, including a specialty steak house and a French patisserie.
Where to meet
Baku Expo Center
The Baku Expo Center is set inside a modern, glass-fronted building with three large exhibition halls, one main conference hall, two meeting rooms and one seminar room for event planners to choose from.
The conference hall can host groups of up to 140, whilst the two meeting rooms are ideal for more intimate events of up to 20 delegates.
Baku Business Center
The three-storey Baku Business Center includes more than 4,600sqm of event space. The venue has been popular in the past for UN meetings and international organisations due to its location beside the Caspian Sea and its close transport links into the city centre.
The largest space is the 350-seat auditorium, which can host a variety of events, including conferences, receptions and exhibitions. A further two conference halls can seat 20 and 70 delegates and both come with modern AV facilities and complimentary wifi.
A restaurant located on the first floor can seat up to 300 people and has views of the Baku Boulevard and Baku Bay.
What to do
The Walled City of Baku
The Old City was the first location in Azerbaijan to be classified as a World Heritage Site by UNESCO, achieving its status in 2000. The walls that stretch around the Shirvanshah's Palace and the Maiden Tower, two of Baku's key historical attractions, date back to the 12th century.
Historical records of the site dates go all the way back to the Palaeolithic period and clues found in the architecture detail the evidence of Arabic, Persian, Ottoman and Russian presence throughout Baku's history.
Groups can take a walking tour of the Walled City where more than 25 historical sites can be seen, including the Fortress Walls, the Maiden's Tower, a selection of large and small mosques and the 15th century Palace of Shirvan Shahs.
More:
InterContintental Hotels to open in Dublin and Baku
IHG to open hotels in Russia and Azerbaijan
Planners hail Azerbaijan C&I appeal
comments powered by

Disqus